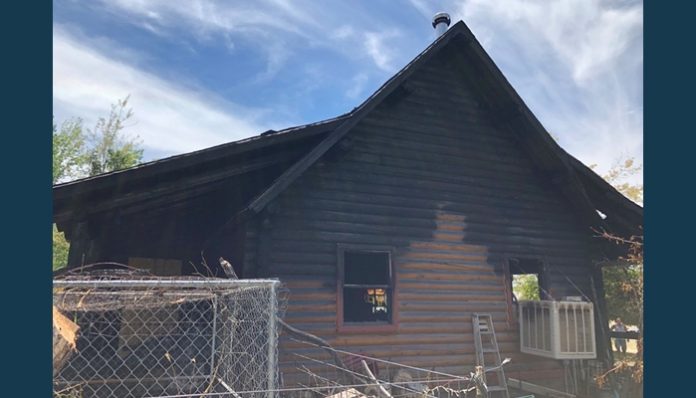 DRAPER, Utah, July 24, 2019 (Gephardt Daily) — Officials have identified the woman killed in a Draper house fire in the early hours of Tuesday morning.
Draper fire officials said the deceased is Shelly O'Meara, 61.
According to Draper Fire Chief Clint Smith, firefighters were called to a home at 13923 S. Arrow Creek Road about 12:45 a.m. When first responders arrived they found a two-story log home engulfed in smoke and flame.
Fire crews quickly determined there were five people living the home, including a husband, wife, a 10-year-old girl and a 6-year-old boy, as well as a grandmother, later identified as O'Meara.
Smith said everyone made it out except for O'Meara, whose body was found inside the house.
The 6-year-old suffered burns and smoke inhalation. He was flown by medical helicopter to Primary Children's Hospital in critical condition, but a news release from Draper City Tuesday afternoon said he is now in stable condition.
A GoFundMe page has been set up by the wife's sister; the page said: "Late last night my sister and her husband lost everything in a house fire. My nephew was Life Flighted to the University of Utah to be treated for burn wounds. I am setting this up to help my sister and my brother-in-law have some money to buy their family clothes and shoes. They ran out with nothing but the pajamas they were wearing. Please, if you are able to help them, that would be greatly appreciated."
After battling the fire, a Draper City firefighter was taken to Lone Peak Hospital for heat exhaustion and smoke inhalation. A Draper Police officer was treated and released at Lone Peak for smoke inhalation.
"Draper City fire crews were on scene within minutes, and other nearby cities sent in crews and fire equipment to assist in battling this fire," said the news release. "The house fire occurred on a private road. There were no fire hydrants on that road, but fire crews were able to connect to hydrants on Arrow Creek Drive."
Draper City Fire, Draper Police and the State Fire Marshal's office determined the fire started on the front porch of the log home, the news release said. Officials did not say exactly how the fire ignited.
"We are extremely saddened that a life was lost in this fast-moving house fire," the update said. "We express our deepest condolences to the family members during this time of grief."
Gephardt Daily will update the story as more information becomes available.