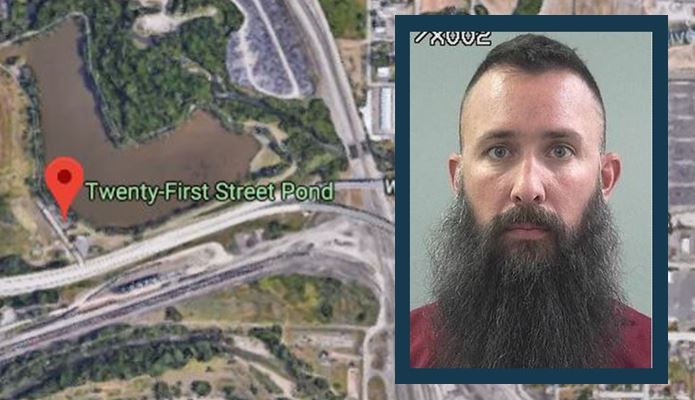 OGDEN, Utah, Aug. 21, 2018 (Gephardt Daily) — Police have identified a man found dead near Ogden's 21st Street Pond on Thursday.
Ogden Police officials said the deceased is Brian Racine, 28. Racine was originally from California but had been living in Ogden for about a month, officials said. His family has now been located and notified of his death.
Cory Michael Fitzwater, 35, has been booked for first-degree murder in the case, officials said Friday.
According to a probable cause statement, Weber County deputies stopped a vehicle leaving the area of the pond at 3 a.m. Thursday.
"The vehicle was occupied by two persons. Inside the vehicle, narcotics and a .45 caliber firearm were found," the statement says. "The driver was subsequently arrested for possession of those items."
At about 4 a.m., officers went to a transient camp in the area of 500 West and 21st Street, responding to a report of a suspicious death. Camp occupants said the dead man had been left alone at the camp at about 2 a.m., and that was when he was last seen alive.
When other occupants returned, they found the man had been shot dead. Officers found a .45 caliber casing, which matched the caliber of gun seized from the truck driver at about 3 a.m. in the same area.
"The Utah State Crime Lab NIBIN screening indicated that the casing found on scene was fired from the gun seized in the traffic stop," the statement says. "The driver in that traffic stop was interviewed by detectives. In the interview, he admitted to witnessing Cory Fitzwater (Cory) shoot the victim in the head with the gun that was found in the vehicle."
Fitzwater was interviewed, and admitted to being in the area at the time the incident occurred, the statement says.
"Due to forensic evidence, and the eyewitness testimony of DA, Your Affiant believes that Cory Fitzwater has committed the offense of murder," the statement says.