OREM, Utah, Nov. 15, 2016 (Gephardt Daily) — Orem Police have released a letter from the parents of a 16-year-old suspect who stabbed five teenage boys at Mountain View High School on Tuesday morning, then stabbed himself in the neck.
The parents' letter, released on Orem Police Department's Twitter, reads:
We express our deepest condolences to the five boys who were harmed at Mountain View High School this morning and to their families. None of the victims had done anything to hurt him. This was in no way racially or ethnically motivated. We are at a loss to express how deeply sorry we are for the pain and injury caused. Our thoughts and prayers are with the boys and their families.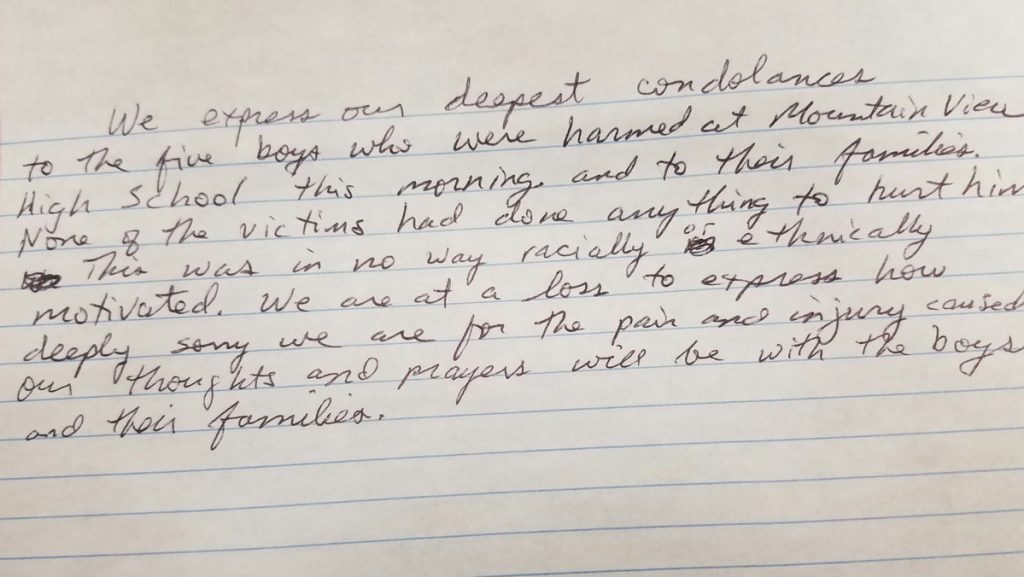 Orem Police Chief Gary Giles, speaking to reporters at a news conference, said that at 7:47 a.m., a call was received at the dispatch center. The episode was over by 7:53 a.m., so there were six minutes between the call and the suspect being taken into custody.
The attack took place in the school's boys' locker room as teens were getting ready for a physical education class, Giles said. Teachers moved in quickly to block the knife-wielding teen into a small bathroom area of the locker room, "putting themselves into harm's way," Giles said.
The school resource officer was called to the scene, and deployed a Taser to gain control of the boy and to disarm him.
All those stabbed were wounded in the neck or chest area. The suspect's self-inflicted wound was to his neck.
All six teens were transported to local hospitals for treatment. Their conditions ranged from critical to fair, and all were expected to survive, Giles said. At 2 p.m., the Orem Police Department tweeted that the suspect and one victim had been released from the hospital.
The Orem Police Department released the following statement at 5 p.m. Tuesday on Twitter and Facebook:
We want to clarify some issues that we have seen coming out on social media.
After interviewing the suspect, victims and witnesses we believe this had nothing to do with race, religion, or ethnicity. The suspect had not been bullied by any of the victims.. This was not retaliatory.
The victims in this case appear to have been chosen simply because of their proximity to the suspect at the time the incident started.
Now for a few updates from today's tragic event at Mountain View High School.
We all need to realize that today's events affected a lot of people throughout the City. We have five victims but six families that are suffering today (including the suspect's family that was caught totally by surprise at their son's intentions), let's please remember that.
There are a lot of students at Mountain View that know the suspect and the victims. Please, let's keep these kids names off of social media.
The suspect has been released from the hospital is under arrest and is on the way to Slate Canyon Detention Center.
Chief Giles has met with and spoken to the all the victims' families.
We have met with the suspect's parents and they have released a statement.
The hospital has released a statement as follows:
Utah Valley Hospital received four victims from the stabbing incident at Mountain View High School in Orem on Tuesday, November 15. The hospital's Trauma Service was activated to respond to this tragic situation. Conditions on the patients are as follows:
2 in critical but stable condition
1 in fair condition
1 transferred to another hospital for additional treatment but is listed in fair condition
At this point, none of the patients' injuries are considered life threatening.
Families of the victims appreciate the outpouring of community support, but respectfully ask for privacy as they help their students recover. (The fifth victim was seen at a different hospital and has already been released).
We will release more details as they become available. Our thoughts and prayers are with the families affected by today's tragic event. We want to sincerely thank all of our officers, the Orem and Provo Fire Departments, the Utah Highway Patrol, Utah County Sheriff's Office, Lindon PD, Provo PD, UVU PD and everyone else that came together to help all of our kids in a time of need. We truly couldn't have done it without them.
We want to thank the Mountain View High School staff for their courage and dedication to ensure the safety of their students.
This was a tragic, unforeseen event that no one could have prevented. Our only hope is that we can learn from it and pray that it never happens again.
We will post more updates as we can. Thanks! #OremPD, #Mountainviewstrong
The 16-year-old suspect is a new sophomore at the school, a straight-A student who previously had been home schooled, according to Alpine School District spokeswoman Kimberley Bird.
The suspect used a knife with a blade of about three inches, Giles said. No motive has yet been determined, but multiple witnesses to the incident are being interviewed.
After the victims and suspect were transported from the site, district authorities decided to continue with the school day. Investigators remained to collect evidence at the crime scene, but it's in an area of the school that is isolated.
Bird said the school and district will immediately begin a review process to see if anything could have been done to anticipate and prevent the attack, such as a mental health screening. She said the possibility of adding a metal detector will likely be discussed.
Giles said the names of the teens involved will not be released due to their juvenile status.