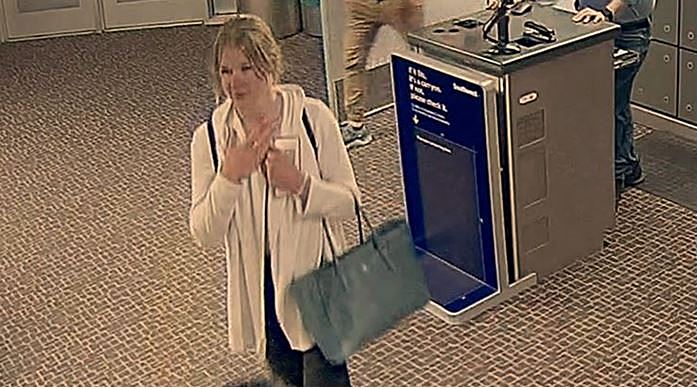 Murder charges filed. For an updated story, click here.
SALT LAKE CITY, Utah, June 26, 2019 (Gephardt Daily) — Salt Lake City police officials said Wednesday afternoon they are investigating the texts that missing University of Utah student MacKenzie Lueck was sending and receiving while she was at the Salt Lake International Airport in the early hours of June 17.
Salt Lake City Police Department tweeted the following Monday afternoon:
"UPDATE: We know MacKenzie was texting while in the airport. We are actively following that lead and continue to pursue other leads as well. #MissingPerson #MacKenzieLueck."
Officials went on to say that the person or persons she was texting are not being considered suspects or a person of interests.
Previous information released by SLCPD said Lueck texted her mom 26 minutes after she arrived at the airport, but this is the first information released about other texts the missing 23-year-old might have been sending while she was there. One hour and seven minutes elapsed between when Lueck arrived at the airport and when she got into a Lyft.
Lueck, who goes by Kenzie, disappeared after attending a funeral in California then flying back to Salt Lake City in the early hours of Monday morning, June 17. Her parents reported her missing Thursday, June 20, at approximately 4 p.m. Lueck is a senior at the U of U and lives in Salt Lake City.
At a press conference Monday, SLCPD Assistant Police Chief Tim Doubt revealed Lueck was dropped off by a Lyft driver at Hatch Park in North Salt Lake at about 3 a.m. Monday, and was "met by an individual in a vehicle."
At the press conference Monday afternoon, Doubt offered this timeline on Lueck's movements after she arrived back in Salt Lake City.
1:35 a.m.: Lueck's plane arrives at Salt Lake City International Airport
2:01 a.m.: Lueck texts her mother to say she's arrived in Salt Lake City
2:42 a.m.: She takes a Lyft from the airport to Hatch Park, which is located at 50 W. Center St. in North Salt Lake
2:59 a.m. She arrives at Hatch Park
"Detectives have spoken with the Lyft driver and learned that MacKenzie was met at Hatch Park by an individual in a vehicle," Doubt added. "The Lyft driver left MacKenzie at the park with that person and stated that MacKenzie did not appear to be in any type of distress."
Doubt said officials have no reason to doubt the Lyft driver's story. He took calls immediately after he dropped her off.
Doubt said the make and model of the car that she was dropped at has not yet been confirmed, and at this time there is no description available of the driver. Doubt said further details may be released once "we have verified that information." While the Lyft driver saw her approach the car, officials said, she was not actually seen getting into the car.
Doubt added that since then, family and friends have not heard from Lueck and she missed a midterm exam and a flight back to California. She was scheduled to fly into Los Angeles International Airport Sunday morning, June 23. Los Angeles police officers met that flight and Lueck was not on it, Doubt said.
"At this time, there is no evidence that any harm has come to her, however because of the circumstances of the case, we want to make sure that she is alright," Doubt said.
He said that since being reported missing, detectives have attempted to locate her through her phone, which is turned off.
Doubt said that officials have no evidence at this point that foul play was involved at this stage.
He said some questions that police are trying to find answers to are:
Who was the person MacKenzie met in the park?
Does MacKenzie have an alternate phone that she has used or is using presently?
Has MacKenzie spoken to anyone since she went missing?
Does MacKenzie have any other social media accounts police don't know about?
He also directed a specific plea to Lueck herself:
"Occasionally, the police work a missing person's case where the person does not want to have contact with family or friends," Doubt added. "If that is the case, MacKenzie, we are asking you to please reach out to the either Salt Lake City Police Department or a law enforcement agency where you are at. We just want to make sure you are safe and we will respect your wishes."
Doubt said Lueck has no mental health issues that police are aware of and as far as they know, she does not have a history of disappearing for any period of time.
Lueck is described as being 5 feet 6 inches tall and weighing 120 pounds. She has medium-length blond hair and brown eyes.
On Monday morning, Salt Lake City Police tweeted:
"SLCPD set up a dedicated tip line specifically for #MissingPerson MacKenzie Lueck, case 19-111129. Please call 801-799-4420 with any information. #MacKenzieLueck." Doubt said six officials have been assigned to staff that line.
Gephardt Daily will have more on this developing story as information is made available.
A gallery of provided photos appears below. Images shot on a diagonal have been tilted back for the sake of clarity.