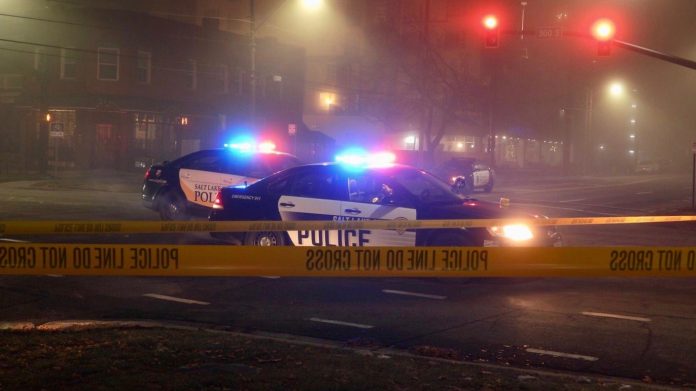 SALT LAKE CITY, Utah, Dec. 9, 2019 (Gephardt Daily) — Salt Lake police have identified the victim of a fatal auto-pedestrian accident in downtown Salt Lake City in the early hours of Saturday morning.
The deceased man is John Hautau, 40, the SLCPD said in a tweet Monday morning. Another man who was crossing the street with Hautau remains in critical condition Monday, police said.
Police at the scene of the accident told Gephardt Daily Hautau and the other man were crossing the street at the intersection of 300 South 500 East just before 1 a.m. when they were struck by a passing motorist.
According to Lt. Carlos Valencia, Salt Lake City Police Department, the car's driver, identified as Justin Taylor Barber Williford, 23, was headed south on 500 East before turning east onto 300 South, where he hit the men who were in the crosswalk.
Both victims were rushed to University of Utah Hospital with severe injuries; Hautau died a short while later.
A probable cause statement from the 3rd District Court of Salt Lake County said the driver, Williford, is facing a charge of DUI with serious bodily injury by negligent operation, a third-degree felony.
"A/P's (accused person's) breath smelled of an alcoholic beverage, so a DUI investigation was performed," the statement said. "A/P admitted to drinking at a local bar and driving his car. During the horizontal gaze nystagmus test, I noticed AP's eyes appeared glossy and bloodshot."
During the nine-step walk and turn test Williford "showed impairment by not being able to maintain balance during the instructional phase, stepped off line multiple times, he missed heel to toe multiple times, and raised his arms to maintain his balance," the statement said. "During the one leg stand test, A/P showed impairment by swaying during the test."
The officer requested Williford consent to a blood draw, which he refused. A blood draw warrant was obtained and the blood draw was performed; the statement did not say what Williford's blood alcohol content was.
The suspect was transported to the Salt Lake County Jail; he was subsequently ordered to be released with the condition of a mandatory court appearance.
Gephardt Daily will update this developing story as more information becomes available.
Downtown SLC Fatal Auto-Ped Accident