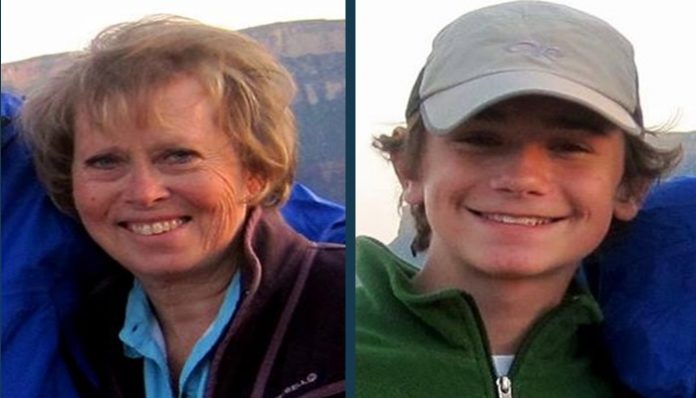 GRAND CANYON, Arizona, April 20, 2017 (Gephardt Daily) — The search for a Vernal woman and her step-grandson missing in Grand Canyon National Park after being swept away in Tapeats Creek Saturday evening is being scaled back, family members said Thursday.
Lou Ann Merrell, 62, and Jackson Standefer, 14, of Tennessee, lost their footing during a family trip and fell into the creek, a tributary of the Colorado River that runs through the Arizona landmark, authorities said.
Officials were alerted when an emergency GPS locator beacon was set off, according to a news release from the National Park Service.
"The NPS received an alert from a personal locating beacon in a backcountry area of Grand Canyon National Park near the confluence of Tapeats Creek and Thunder River," the news release said. "An Arizona Department of Public Safety helicopter flew to the location where a hiking party reported two members of their party missing.
"The hiking party reported that the two hikers were last seen crossing Tapeats Creek below the confluence with Thunder River when they lost footing and were swept down Tapeats Creek."
The NPS then began a Search and Rescue operation; crews were flown to the scene to search the area and backcountry hiking groups and Colorado River trips in the area were also alerted.
The Merrell and Standefer families released the following statement Thursday:
This morning the Merrell and Standefer families are still praying for a miracle in Grand Canyon National Park. Today, April 20, the search for Lou Ann Merrell and Jackson Standefer will continue on a limited basis. After carefully considering all the information available to us, and based on our personal knowledge of the search area, we support Grand Canyon National Park's (GCNP) decision to scale back the search.
We thank the GCNP staff for their exemplary service. We know they have done everything possible since Saturday, April 15, to find Lou Ann and Jackson. We also know countless people were praying for a much different outcome than this one. We felt your prayers and were sustained by them in ways we cannot begin to describe. We are profoundly grateful for the support that continues to pour in from across the country.
We thank GCNP, the Arizona Department of Public Safety, Uintah County (Utah) search and rescue, Merrell Boot Co., SKYTEC of Chattanooga, TN, Xanterra Hospitality, and all others who volunteered their time, talents and equipment in the effort to find Lou Ann and Jackson.
We ask that you please continue to pray for our families, as our loved ones are still missing.
Merrell is an experienced hiker and knows the area well, family members said Monday. She is the wife of Randy Merrell, who helped found the outdoor footwear company Merrell Boot Co. in 1981. The missing pair were on a family trip with Randy Merrell and the boy's mother.
The National Park Service said no rain or flash flooding was reported in the area. The park service describes conditions in the area on its website, warning that snow melt or heavy rain may make creek crossings impossible.
"Spring warming trends and intermittent high creek levels are more likely after mid-March with the peak flows often in May," the website states.
Merrell was last seen wearing khaki zip-off shorts, a blue and green button down short-sleeve shirt, and blue water shoes. She was carrying a homemade blue backpack with a maroon fleece and hiking poles attached.
Standefer was last seen wearing black Nike shorts, a long sleeve white Columbia T-shirt with "Columbia" written on the sleeve, and navy blue Chaco sandals. He was carrying a new sage green backpack.
Anyone with information about the hikers is asked to contact National Park Service at 928-638-7805.