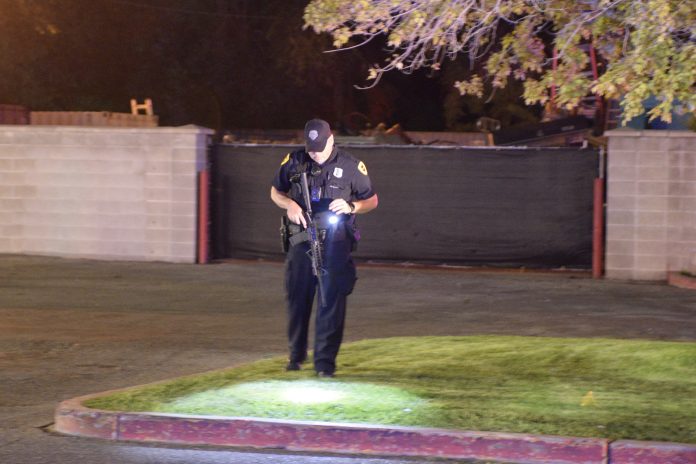 SALT LAKE CITY, Utah, Aug. 7, 2018 (Gephardt Daily) — A report of multiple shots fired late Monday night in Salt Lake City led to a residential search warrant that yielded more than 21 long guns, several handguns, 15 pounds of marijuana and two ounces of psychedelic mushrooms, officials said.
The incident, which started at approximately 10 p.m., resulted in a massive police effort to locate the shooter or shooters in a residential neighborhood on Redwood Road.
Initially, an officer who was covering a hit-and-run accident at a 7-Eleven came over the police radio and reported, "I just heard shots fired," Salt Lake City Police Lt. Gary Trost said.
Reports were that a significant number of rounds — possibly as many as a dozen — had been fired.
Not knowing what to expect, officers converged on the area near 500 South and Redwood Road, and set up a containment area covering two blocks in every direction.
"We made contact with a resident of this home," Trost said. "We took him into protective custody so we could figure out what's going on.
"I can tell you that the gentleman inside this house is having some sort of mental illness right now. Whether he's the one that shot those rounds that were heard, we're not quite sure yet. We're still going to investigate that," Trost told Gephardt Daily.
"The gentleman that we brought out of the house, he was making some pretty unusual statements that made us go, 'OK, hold it.'"
A watch log released by the Salt Lake City Police Department Tuesday afternoon said the subject was delusional and making statements about "people in the trees."
The subject was transported to a local hospital for evaluation.
"Officers located evidence inside the house after serving a search warrant," the watch log said. "Over 21 long guns and several handguns were seized, along with 15 pounds of marijuana and two ounces of psychedelic mushrooms."
The investigation is still ongoing Tuesday afternoon.
No one was injured in the course of the incident.
Trost said officers had checked nearby homes and vehicles as they cleared the area, and one of the cars had a bullet hole in it. A bullet casing was found on the front porch.
Salt Lake City Police had assistance from Utah Highway Patrol, which brought in air support to aid in the search for any suspects.
"It was a lot of manpower," Trost said of the almost two-hour search-and-clear, "and it almost seems like we were chasing nothing. But no one was hurt, there were no victims, so that's a good thing."
The man who was taken to hospital was not identified by officials.