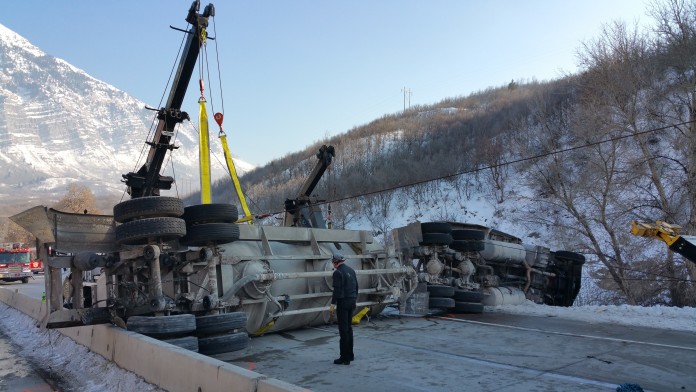 PROVO CANYON, Utah, Feb. 9, 2016 (Gephardt Daily) — A rollover accident involving a semi forced the closure of all eastbound lanes in Provo Canyon for several hours Tuesday afternoon.
According to Utah Highway Patrol Sgt. Cameron Roden, the accident occurred just after 1 p.m. on SR-189 near mile marker nine when a semi headed east lost control and rolled onto its side spilling fertilizer across the highway.
"We are still investigating what caused the driver to lose control," Roden said. "We did find the semi was hauling fertilizer. Some of that fertilizer leaked out onto the road way. They have the leak stopped and are in the process of offloading the semi to be able to get it removed from the roadway."
The Ammonium Nitrate fertilizer is highly flammable but Roden said it was not considered an immediate danger.
"Potentially it would have to be mixed with other things in order for it to ignite but Hazmat was able to determine it wasn't a hazard and were able to open up enough traffic to get westbound lanes open," Roden said.
The driver, whose identity has not been released,  is in serious condition at a nearby hospital and is expected to recover.
Roden said slick road conditions may have contributed to the incident.
The roads were re-opened and cleared around 5 p.m. Tuesday.