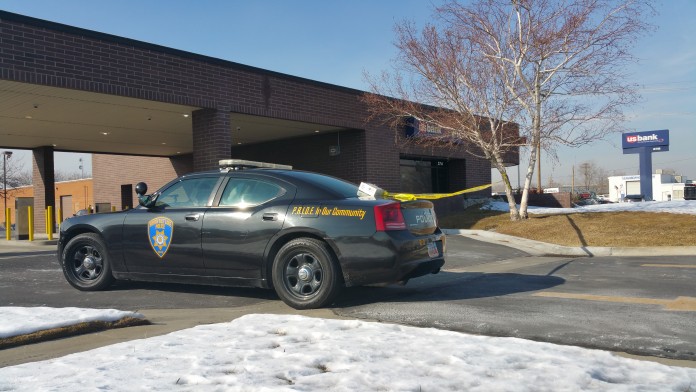 SOUTH SALT LAKE, Utah, Jan. 27, 2016 (Gephardt Daily) — A person suspected in the robbery of a South Salt Lake bank was tracked and arrested in Farmington Wednesday afternoon.
According to South Salt Lake Police spokesman Gary Keller, a man entered the U.S. Bank located at 2714 S. 300 West just before 1 p.m., presented a note and demanded cash.
"The teller did as instructed and turned over an undisclosed amount of cash to the suspect," Keller said. "The suspect then left the area on foot, and possibly later got in a silver Mazda."
Keller said they were able to use technology to track him to Davis County.
Utah Highway Patrol, Davis County Sheriff's deputies and officers from Farmington Police were able to assist in tracking and apprehending the suspect. Other individuals were in the car with the suspect, and their role in the robbery, if any, is not known at this time.
"The investigation is still in the beginning stages as it was a rapidly evolving situation at the time it happened," Keller said. "We were able to take a suspect and the other two individuals into custody, and are still in the process of recovering evidence taken from the bank."
Keller said they are also looking into whether this individual is connected to any other earlier unresolved robberies.