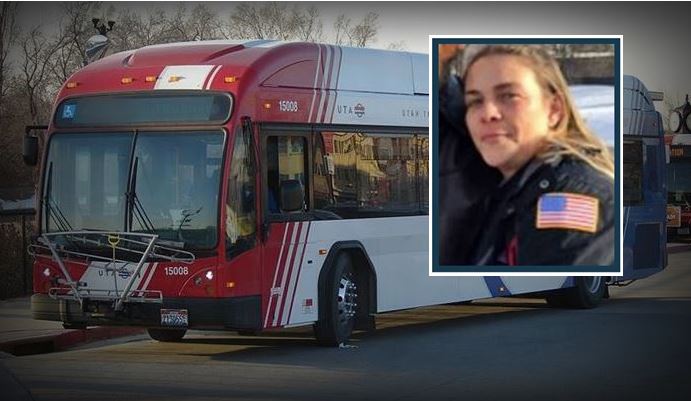 SALT LAKE CITY, Utah, Feb. 12, 2019 (Gephardt Daily) — A Utah Transit Authority bus driver was honored Wednesday by the UTA Board of Trustees for her heroic, life-saving actions involving a Utah teenager.
Shelly Monson dropped off her bus early on Jan. 30, then lingered briefly at UTA headquarters before heading to Ogden.
"Little did she know that slight delay would help avert a tragedy just a short time later, putting her in the right place at precisely the right time," a statement from UTA says.
"Monson, who works for the Mount Ogden business unit, was returning to Ogden in a UTA vehicle when she noticed someone on the shoulder of I-15 where the highway crosses over 200 North in Kaysville.
"Monson's intuition told her something was wrong and that the young woman she saw lift a leg over the concrete barrier of the overpass might be in trouble."
Monson parked the car and ran to the bridge, the statement says. The young woman had completed her climb over the barrier, and "appeared ready to leap off the bridge into oncoming traffic on 200 North.
"Shelly reached the young woman just in time, wrapped her arms around her and pulled the young lady back over the barrier. The two then sat together on the overpass with Monson hugging the teenager, who was overcome with emotion."
Monson called local authorities, who took the teen to a place where she could be reunited with family members.
"Monson returned to work that same day stating she hoped one day to meet the young woman whose life she saved and establish an ongoing relationship with her to provide friendship and support," the statement says.
Monson "epitomizes the care and concern UTA has for this community," the statement says. "With that in mind, Shelly Monson will be recognized by the Board for helping save many lives on her fateful trip to Ogden."