SALT LAKE CITY, Utah, March 6, 2018 (Gephardt Daily) — The Utah Bar Association is struggling to defend itself after a photo of an unclothed woman somehow got attached to emails created in-house and sent out to all bar members.
The image, which ran below an ad for the Utah Bar's spring convention in St. George, showed a section of a woman, from the neck through the mid-torso.
She was nude, with her breasts exposed. See the edited image below.
Attorneys including Chase Thompson, of Salt Lake City, raised the alarm.
"If you recently got an email from the Utah Bar, be careful opening it," he wrote on Twitter. "There may or may not be a naughty picture it in…. Guessing they got hacked?"
The Bar sent out its own message.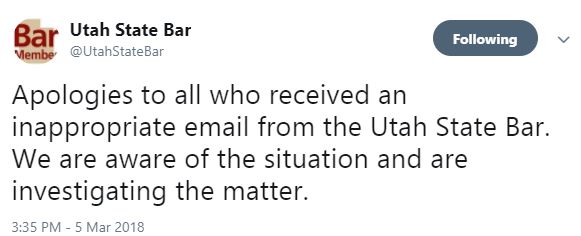 "Apologies to all who received an inappropriate email from the Utah State Bar. We are aware of the situation and are investigating the matter."
Utah Bar Association officials sent an email message to members:
"We are horrified," wrote John Baldwin, Bar executive director.
"We are investigating to discover how this occurred. Our goal is to find out what happened and insure it never happens again."
Meanwhile, social media members found the humor in the situation: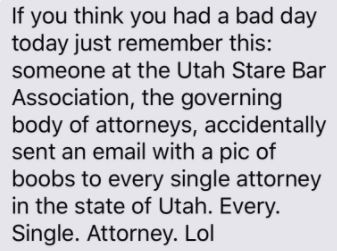 • • •
The image, edited.