July 16, 2017 (Gephardt Daily) — A 3-year-old Utah boy died Saturday in Las Vegas after being in a parked car for at least an hour as the temperature hovered around 114 degrees.
The Las Vegas Review-Journal reported that the Clark County (Nevada) coroner identified the toddler as Chase Lee, of Fillmore, Utah.
According to the Review-Journal, police were called shortly before 5 p.m. to reports of a child suffering heat-related injuries. The boy was in a car seat in a four-door passenger car, police said, and the car's windows were up.
The car was parked at the Grandview Las Vegas Timeshare, where the family was attending a reunion. Police said a large family was visiting from different parts of the country and about a dozen children were part of the group. They apparently lost track of the boy.
The incident was still under investigation Sunday morning, but police said drugs and alcohol do not appear to be a factor. Metropolitan Police Lt. Roger Price, who is with the department's special victims unit, called the boy's death "a tragic accident."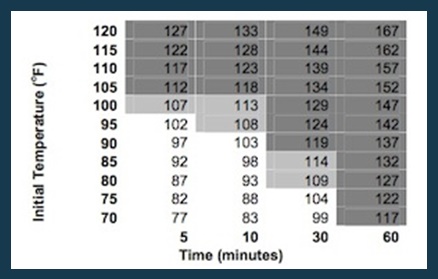 The table above, designed by researchers at University of Georgia, shows vehicle temperature changes inside closed cars during hot weather.  With an outside temperature of 85, the temperature inside a vehicle will be 114 in just a half-hour. With the outside temperature near 115, as in Las Vegas on Saturday, the temperature would be near 144 in a vehicle after only a half-hour. Leaving the windows partially open does not have a significant cooling effect.