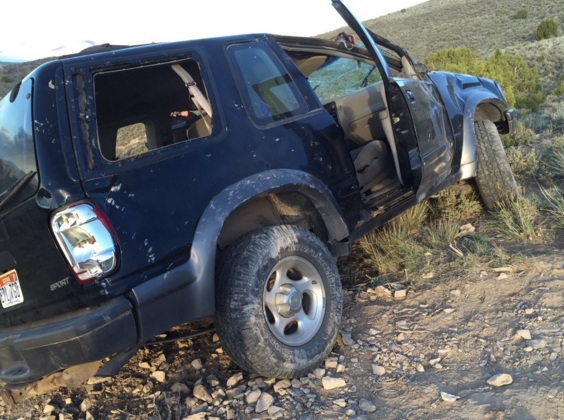 UTAH COUNTY, Utah, April 16, 2016 (Gephardt Daily) — An Orem man died Saturday after rolling an SUV down a mountain side in southwest Utah County.
It was the second fatality in Utah County in 24 hours.
Forrest James McCombs, age 21, was driving up a steep trail, about seven miles north of Elberta, when the SUV began to lose traction and slid sideways, rolling about 200 yards before coming to a stop.
Utah County Sheriff's Sgt. Spencer Cannon told Gephardt Daily the accident happened around 5:30 p.m. in an area frequented by off-road drivers near Chimney Rock Pass Road, 5 miles west of State Road 68.
"The owner of the vehicle was riding in the passenger seat with his seatbelt on at the time of the incident, and received minor injuries," Cannon said. "The driver was not wearing his seatbelt and although he was not ejected, he sustained severe head trauma and died at the scene."
Braden Kocherhans, 21, of Orem, was in the front passenger seat when the SUV rolled, but escaped serious injury.
Witnesses rushed to help render first aid , but were unable to revive McCombs, who was later pronounced dead at the scene.
Sheriff's investigators say both men had been drinking earlier in the day, but it was still too early to know if alcohol was a factor in the crash.
McCombs' body was been taken to the Medical Examiner's office in Salt Lake City where an autopsy will be conducted.