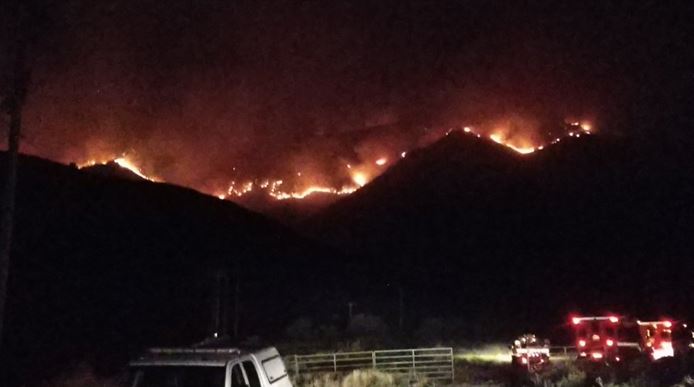 UTAH COUNTY, Utah, Aug. 22, 2019 (Gephardt Daily) — The Goose Point Fire has grown exponentially overnight, more than quadrupling its estimated size from 700 acres to 3,000.
Utah fire officials said at a Thursday morning news conference that a more accurate acreage estimate is expected later Thursday morning, but the fire could be as large as 6,000 acres.
"Crews used heavy equipment to build a break between the fire and about 15 homes on the bench," says a statement released Thursday morning Utah Fire Info's Twitter page. "0% contained. No evacuations."
More than 100 firefighters will be working the scene on Thursday, and will be continuing to use bulldozers and controlled fires — to consume grass and other potential wildfire fuel — to build a break between more than a dozen homes and the active fire.
The strategy used by fire crews is based on conditions including expected wind directions, an official said, noting that wind can always change.
A tweet issued just before 10 p.m. Wednesday indicated the fire was at 700 acres and five percent contained. The Goose Point Fire was first reported at 6:26 p.m. on Wednesday.
The fire was sparked by machinery, according to information released at a news conference. No specific details on the type of machinery at fault were shared.
A map issued by Utah Fire Info showed the location of the fire to be near the south end of Utah Lake, on the east side.
Image: Utah Fire Info
Gephardt Daily will have more information as it becomes available.