UTAH, Nov. 28, 2019 (Gephardt Daily) — Ever wonder about Sen. Mitt Romney's Thanksgiving menu items?
Light meat or dark? His go-to alternative if the turkey burns? And why he is forced to make a specific side dish every year?
Well, more than a thousand viewers have watched Romney's video on the topic, and more than 100 have retweeted it for their Twitter followers. That's since the video was posted on Thanksgiving morning.
Several of Utah's elected leaders have shared Thanksgiving messages. We share them here.
Below, view Romney's pie ranking system and holiday duties assigned to him by family.
I love apple pie. I like pumpkin pie. But I really love pecan pie. pic.twitter.com/JU5FCeUKk4

— Senator Mitt Romney (@SenatorRomney) November 28, 2019
Romney also shared thoughts on video about his gratitude to the nation's military troops.
To the men and women who are in our Armed Services, whether here at home or somewhere across the world: Thank you. We appreciate the sacrifices you make for our freedom, for our prosperity, and for our future. From my family to yours: Happy Thanksgiving! pic.twitter.com/kmrdv7cqfg

— Senator Mitt Romney (@SenatorRomney) November 28, 2019
With two videos, Romney wins the unofficial most videos award for Utah elected leaders this Thanksgiving season.
● ● ●
But it is Utah Rep. John Curtis who wins the unofficial biggest effort award.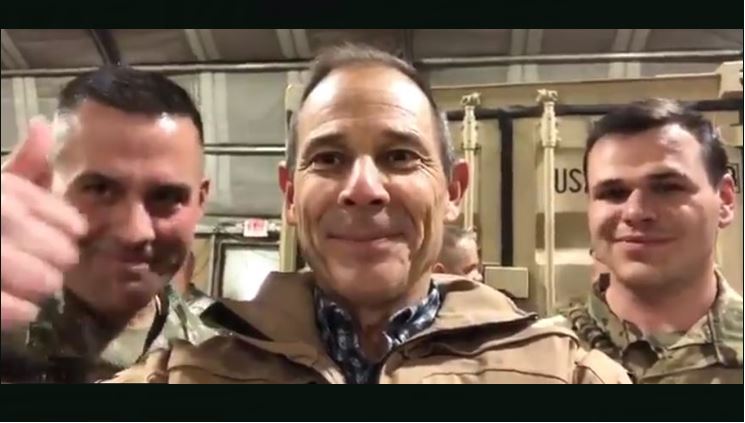 Curtis shared a video of himself in Afghanistan with a Utah serviceman on each side, as he shares his Thanksgiving message. That is truly going the extra mile, or to be more exact, the extra 7,370 miles.
To view Curtis' video, click here.
● ● ●
Utah Rep. John Stewart tweeted a video about his gratitude, apparently shot in his office. A solid effort, we think. View it below.
Today, and everyday, I am thankful for my family, this country, and the opportunity to serve you. Happy Thanksgiving! pic.twitter.com/xvHC0JDuZa

— Rep. Chris Stewart (@RepChrisStewart) November 28, 2019
● ● ●
Rep. Ben McAdams shared a brief message and a Thanksgiving photo of  his family.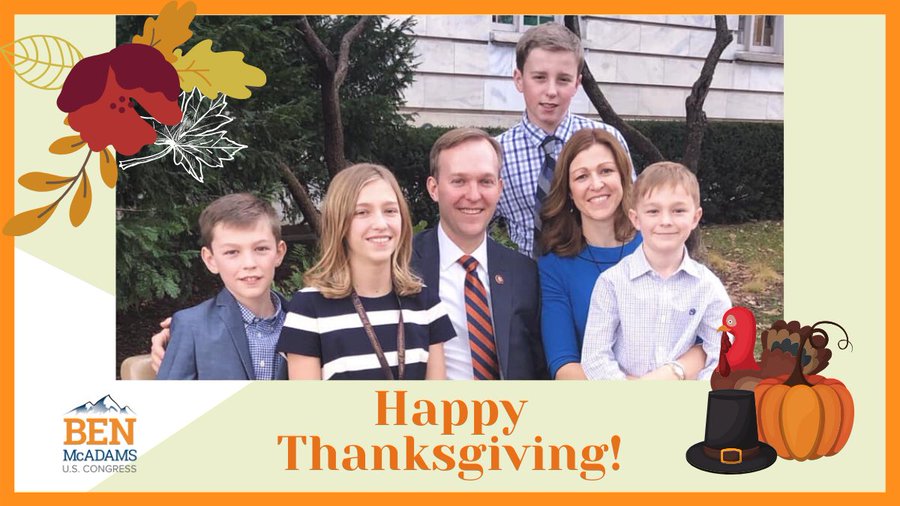 "Wishing everyone a happy Thanksgiving, from our family to yours," the message says, minus emojis for a turkey and two leaves.
A moderate effort. Bonus points for getting all your kids to smile in one photo.
● ● ●
Gov. Gary Herbert kept it old school with a message in text.
"Happy Thanksgiving everyone," he wrote in a message posted Thursday.
"We have so many rich blessings here in Utah, but even the act of being grateful is a blessing in and of itself. May our hearts be filled with gratitude today and always. Have a safe and enjoyable holiday."
A Wednesday text also talked about serving food at the Rescue mission.
"Serving at the Rescue Mission has become a treasured tradition for my family. I'm grateful to Pamela Atkinson for her example of service, and for giving us this opportunity each year. Happy Thanksgiving!"
Well done.