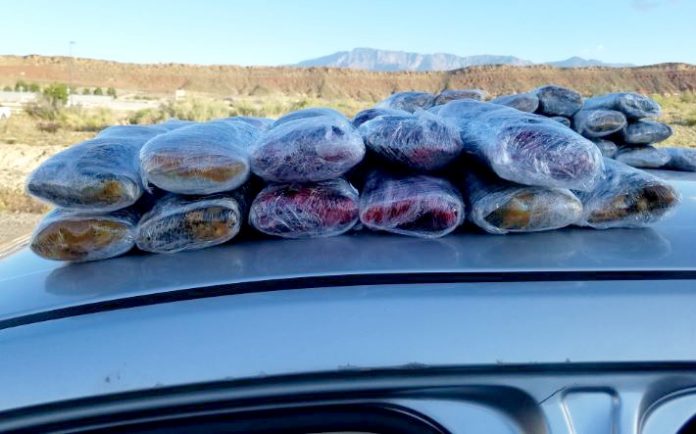 ST. GEORGE, Utah, April 27, 2017 (Gephardt Daily) — A Utah Highway Patrol trooper who made a traffic stop on Interstate 15 near the Utah/Arizona border early Tuesday recovered 50 pounds of meth from the car's hidden compartment.
The officer stopped the northbound 2010 Ford Taurus at about 4:30 a.m., near milepost 2, according to a news release from the Utah Highway Patrol.
The trooper called for backup, and a K9 trooper detected the presence of narcotics. A search revealed two trap doors, one under the driver's seat and the other under the front passenger seat. Troopers opened the doors and located 42 packages, which were brick shaped, wrapped in plastic. Packages field tested came back positive for methamphetamine.
Driver Rudy Ramirez , 27, from Las Vegas, was placed under arrest and booked into the Washington County Jail, according to Utah Highway Patrol information.
"It is believed that the methamphetamine originated in California and was en route to the upper mid-west," the UHP statement said.