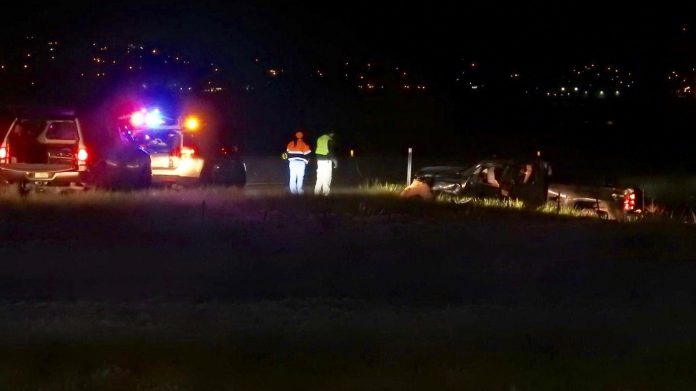 STANSBURY PARK, Tooele County, Utah, May 21, 2019 (Gephardt Daily) — The Utah Highway Patrol has released the name of the Utah man killed just after midnight Tuesday morning when his truck rolled in Tooele County.
The victim is Michael S. Gollaher, age 62 from Lake Point.
Utah Highway Patrol Lt. Shawn Judd told Gephardt Daily troopers were called to the scene, at State Route 36 and Bates Canyon Road, and found a heavily damaged full-sized pickup truck had rolled multiple times while heading north.
A Utah Department of Public Safety statement release later says that Gollaher drifted off the right shoulder of the roadway.
"The driver over-corrected left causing the vehicle to slide," the statement says. "It slid across the northbound travel lanes and struck the center concrete barrier. The vehicle went over the barrier and into the southbound travel lanes. Where it continued to travel northbound in the southbound travel lanes until it started to roll. The vehicle rolled multiple times before going off the shoulder."
Gollaher " … was ejected during the roll and sustained fatal injuries."
Judd said the driver was pronounced dead at the scene. The initial investigation suggests excessive speed and alcohol played a role in the crash, he said. Judd also said the driver was not wearing a seatbelt.
SR-36 was was closed in both directions for multiple hours for the investigation. Besides documenting the scene, Judd said another factor was "the amount of debris in the roadway."