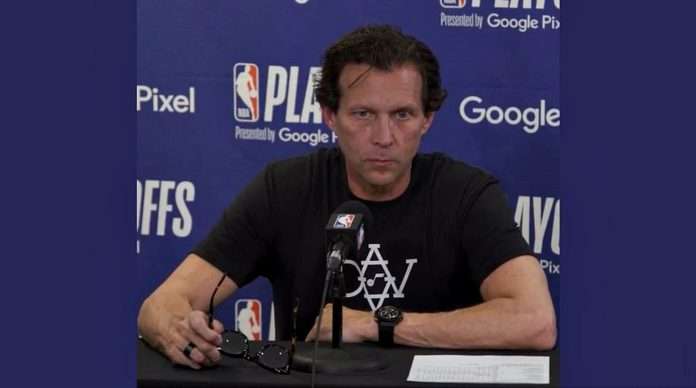 SALT LAKE CITY, Utah, June 5, 2022 (Gephardt Daily) — Utah Jazz head coach Quin Snyder announced Sunday he's stepping down after eight seasons, saying the team needs "a new voice to continue to evolve."
Snyder departs Utah as the second-winningest coach in franchise history behind Jerry Sloan, posting a 372-264 (.585) record while guiding the Jazz to six playoff appearances and three trips to the Western Conference Finals.
"At the core and what drives me every day is our players and their passion for the game, their desire to constantly work to improve and their dedication to the team and the Jazz," Snyder said. "I strongly feel they need a new voice to continue to evolve. That's it. No philosophical differences, no other reason. After eight years, I just feel it is time to move onward. I needed to take time to detach after the season and make sure this was the right decision."
Over the past six seasons, Snyder led the Jazz to a 294-178 (.623) record — the third-best winning percentage in the NBA and best in the Western Conference during that span, according to a news release from the team.
"I am forever appreciative of all the players, coaches, partners, and people I have worked with at the Jazz. Your sacrifice, your kinship have made this an incredible and special experience," he said.
Snyder added that he and his wife, Amy, "are so grateful for our time here as it has been just a tremendous place to raise our family."
"Thank you to our always supportive and passionate fans. We only want the best for you and to see you raise a championship banner," Snyder said.
Jazz majority owner Ryan Smith praised Snyder's hard work over the past eight seasons and wished the coach luck in his future endeavors in a statement Sunday. 
"Quin Snyder has embodied what Jazz basketball is for the last eight years," said Smith, who purchased the team in October 202. "The tireless work ethic and attention to detail Quin displayed each day is a testament to the professional he is. I have nothing but admiration for Quin and respect his decision."
In 2020-21, Snyder led the Jazz to an NBA-best 52-20 record on his way to being named head coach of Team LeBron at the 2021 NBA All-Star Game. In 2017-18, Snyder was the runner-up in NBA Coach of the Year voting. He was named Western Conference Coach of the Month four times during his time with the Jazz.
Snyder said the Jazz "couldn't be in better hands" than with Smith.
"I am incredibly grateful to have spent the last eight years with such a respected and historic organization and in the beautiful, kind, supportive community of Salt Lake City," Snyder said in a released statement. "(Smith) is fiercely proud of and committed to doing what is right for the Utah Jazz and bringing a championship to Utah."