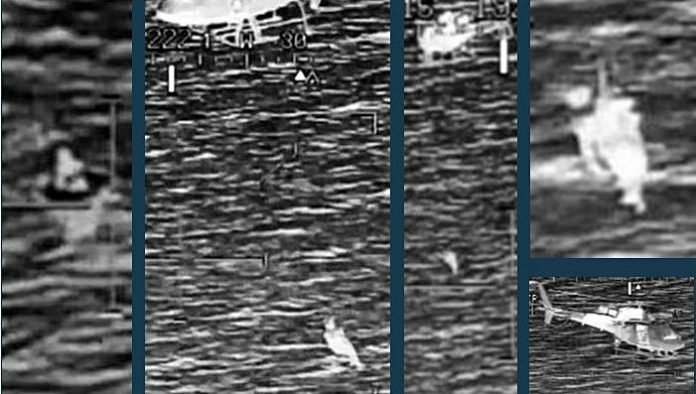 ANTELOPE ISLAND, Utah, Sept. 21, 2019 (Gephardt Daily) — The Utah National Guard has shared a sighting and rescue video from the overnight rescue of one of two kayakers lost in the Great Salt Lake, near Antelope Island, on Friday and Saturday.
"You see this?," one AH-64 Apache pilot says to a second.
"Oh, yeah. What's that?"
"Looks like a dude in a tube."
Three friends, all 20 and from Davis County, had set out in three kayaks on Thursday, but the waters were choppier than expected.
The trio decided to head back to Antelope Island, but lost sight of each other at about 3 p.m. The first man reached the northwest corner of Antelope Island at about 7 p.m. Thursday and called for help, the sheriff's office said.
Multiple agencies, including the Utah National Guard, responded, and the search continued far into the night. In the early hours of Friday, the second man was found in the water, and the third was found about 45 minutes later. Both were transported to area hospitals to be checked out.
The Utah National Guard posted the video of pilots spotting a man, who by then was in the flotation device.
"Last night was a great example of the Utah Guard working with DPS on domestic operations," said Chief Warrant Officer 4 Jared Jones, one of the Apache pilots assigned to 1st Attack/Reconnaissance Battalion, 211th Aviation Regiment.
To his Facebook post, Jones added the tags #AlwaysReady #AlwaysThere #UtahGuard.
See the Utah National Guard video below, followed by a Davis County Sheriff video, and photos.
AH-64 Apache pilots locate lost kayaker

"You see this?""Oh, yeah. What's that?""Looks like a dude in a tube."Last night our AH-64 Apache helicopter pilots helped locate one of the two missing kayakers in the water near Antelope Island. "Last night was a great example of the Utah Guard working with DPS on domestic operations," said Chief Warrant Officer 4 Jared Jones, one of the Apache pilots assigned to 1st Attack/Reconnaissance Battalion, 211th Aviation Regiment.#AlwaysReady #AlwaysThere #UtahGuard

Posted by Utah National Guard on Friday, September 20, 2019
● ● ●
● ● ●