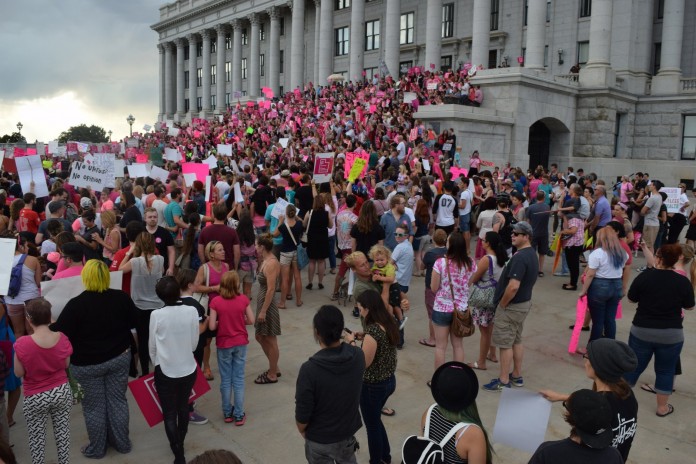 DENVER, March 8, 2016 (Gephardt Daily) — Planned Parenthood of Utah on Tuesday asked a federal court of appeals to stop Governor Gary Herbert from cutting off funding to the organization.
Peggy Tomsic, a lawyer for Planned Parenthood Association of Utah (PPAU), told a three-judge panel at the 10th U.S. Circuit Court of Appeals that multiple investigations have cleared Planned Parenthood of illegally selling fetal tissue for profit to medical interest for research purposes.
Herbert had previously given those charges of wrongdoing as a key reason for defunding PPAU of the $275,000 that formerly went to the organization from federal funds provided to Utah. PPAU's total annual budget is $8 million.
Tomsic argued that Herbert opposes the organization, and his continued resistance to restoring funding is unconstitutional political retribution. PPAU is being wrongly punished, Tomsic said.
Tyler Green, of the Utah attorney general's office, countered that Planned Parenthood has not been definitively cleared of wrongdoing portrayed in a video in which filmmakers allegedly showed a Planned Parenthood worker in Texas discussing the purchase of fetal tissue.
The filmmakers were later indicted on charges related laws they allegedly broke while in the process of making the film.
Green also said Herbert has the right to end at-will contracts.
The hearing lasted 30 minutes. The appeals court did not come to a decision Tuesday, and did not indicate when it will announce a judgement.
Karrie Galloway, president and CEO of Planned Parenthood Association of Utah, released a statement on Tuesday afternoon.
"We went to court today to continue fighting for the thousand of Utahns who rely on Planned Parenthood for affordable, lifesaving health care and education," she said in the statement.
"We feel confident that the court will rule in favor of our patients and education clients. While the court considers our case, our doors will remain open. Utahns can continue to rely on Planned Parenthood for care and education ─ no matter what."