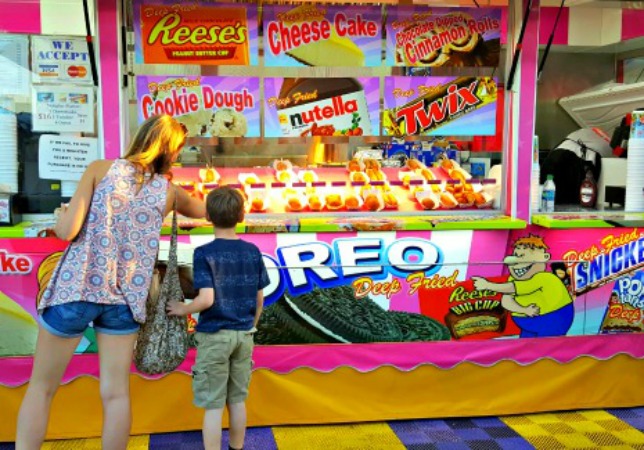 SALT LAKE CITY, Utah, Sept. 11, 2016 (Gephardt Daily) — On Friday evening at the Utah State Fair, the western horizon turned almost as golden as a fried Twinkie.
Deep shade puddled around fair goers' sneakers and flip flops, and smiling people who had lingered all day were buying hoodies to pull over their tank tops.
It's vendor Marcelino Hernandez's favorite time of day. He sells hoodies.
"Now is when it starts," said Hernandez, 43, who lives in California when he's not on the carnival circuit. "On weekdays, people come after work. I've made three sales since this morning. Only Utah starts that early."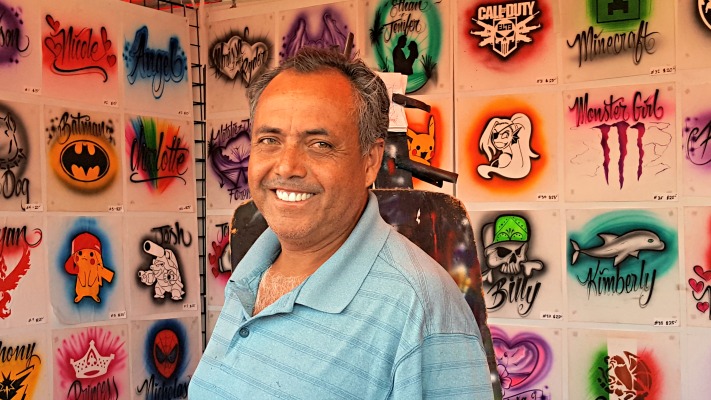 Then one of those customers returned after deciding she wanted a Hello Kitty design airbrushed on the back of her hoodie, for a small additional charge.
Hernandez placed the fabric on his easel and picked out the sprayer and fuschia ink.
A dozen or so expert flourishes later, his work was done, and set aside to dry.
"I've been doing this for 17 years, and my father before me," he said as a breeze caught his display shirts. "I do it summertime only, in California, Oregon, Idaho, Utah. I make money to live, and I see beautiful places. I love to travel."
His season ends with the Utah State Fair, and he'll take a few weeks off, then look for a winter job.
But he'll have some money saved, and memories of all his scenic stops, including the Snake River and Yellowstone, to keep him entertained.
"I like to travel. I like talking to people. The hours are too long, but I get days off between festivals. I like my job."
So does Chan Park, whose framed art prints booth is a few stops to the east. Park is closer to the carnival rides, which means gleeful squeals are a few decibels louder.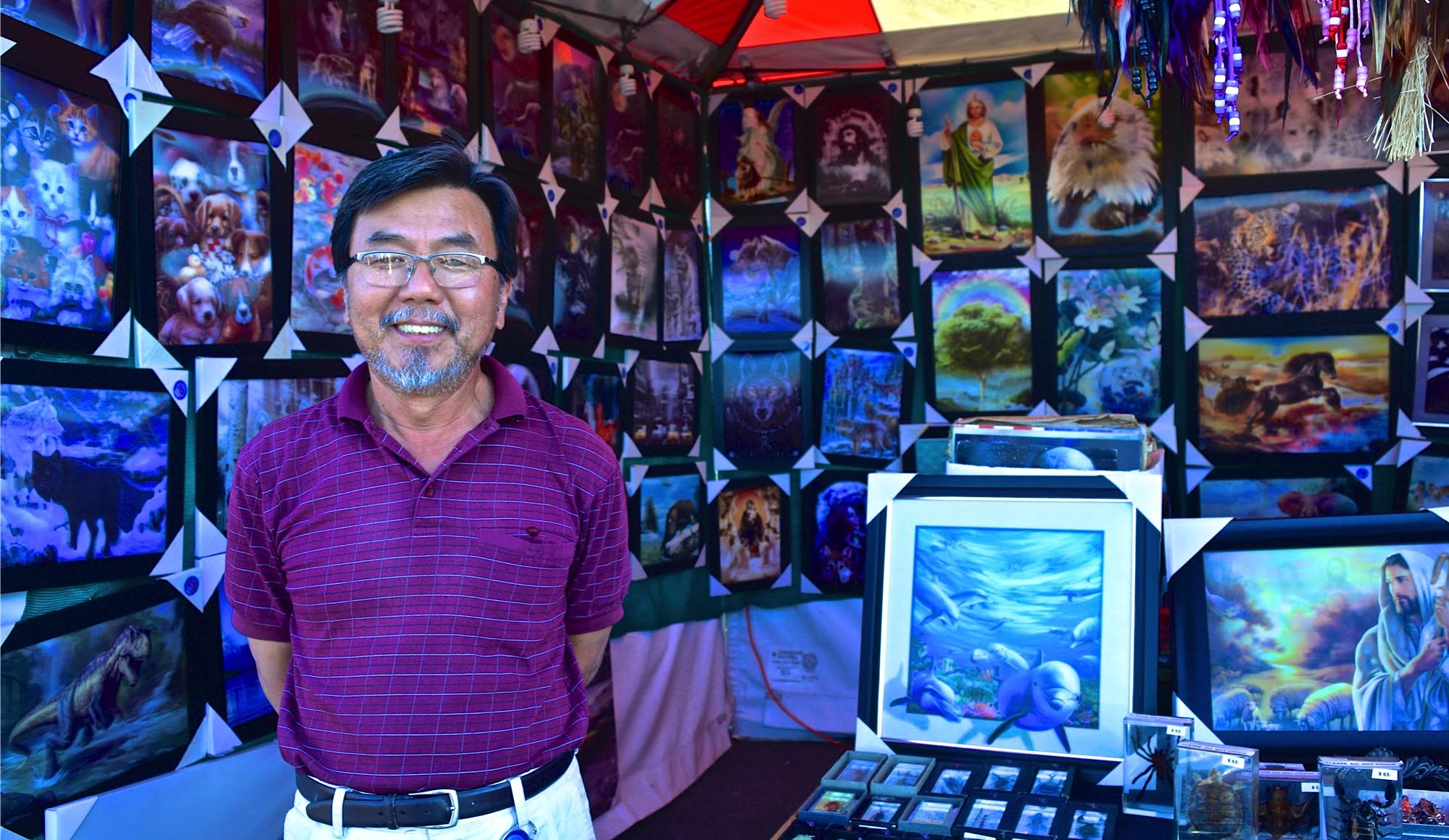 "My job is fun, driving all over," said Park, 63.
"I go to national parks. My wife owns a restaurant, and she does OK," Park said, laughing. "I earn money for retirement."
Park has worked in carnivals three to four months each summer for more than 10 years.
The job does come with challenges, like lodging.
"Some rooms are expensive. They cut into your profits," Park said. "It's hard to find a cheap motel that is not dirty. I find cheap rooms on the Internet, but if they are dirty you have to make the manager change it."
And there are nutritional challenges. Too many funnel cakes and fried pickles can take their toll.
"It's not good to eat this same food all the time," said Park whispered, glancing from side to side. "I buy some food at stores."
Another Marcelino, 54-year-old Marcelino Tabango, likes to tour Utah since he lives in Orem. His booth is called Runa Arts, just like his family's store in Orem's University Mall.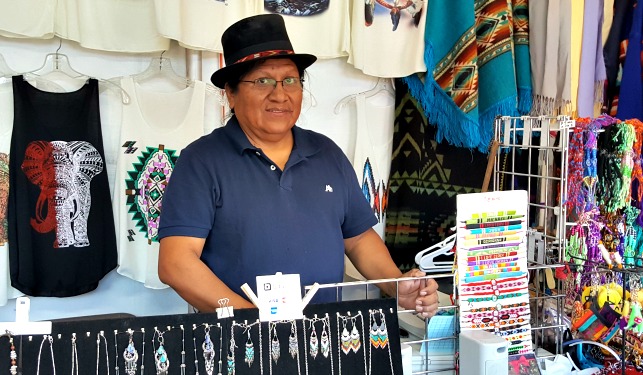 "It's a family business," he said. "I sell a lot of bracelets that my family makes. I have done it for 25 years."
Tabango said his carnival tour also takes him through Montana, Idaho, New Mexico and Arizona.
He likes the travel, and he likes most of the people he sees working on his circuit.
"There are good people who work at the fairs," he said. "Some are not. I am used to it."
And he likes meeting the general public, especially people who appreciate the crafts his family has created.
He even smiled when three women licking drippy ice cream cones bent over his handmade wares for a closer look.
"I get excitement from my job," he said, pride in his voice. "I like the customers. And it is exciting when we make new things and people like them. That is fun for me."
The Utah State Fair continues daily through Sept. 18 at the Utah State Fairpark, 155 N. 1000 East.
If attendance averages hold, about 290,000 people will attend this year's fair, which features concerts, cook-offs, craft demonstrations, displays of arts, quilts, awarded-winning vegetables and farm animals, carnival foods and drinks, rides, slides, and a wide array of vendors.
For hours, admission prices, schedules and more information, click here.