EMERY COUNTY, Utah, June 15, 2018 (Gephardt Daily) — Fire officials have ordered that State Route 31 in Huntington Canyon be closed again due to fire activity near the road.
The closure, announced at noon on Friday, will affect from the Rhino Mine turnoff up to mile post 18.5, which is the turnoff to Miller's Flat.
"Dense smoke is the primary concern in Huntington Canyon right now," said another message from the Emery County Sheriff's Office. "Fire activity has increased significantly in upper Mill Fork. The Trail Mountain Fire has not crossed State Route 31."
The map below shows the location of each fire, with updates below.
For ongoing updates from Utah Wildfire Info, click here.
"The #TrailMountainFire has not crossed SR31. The road will reopen once conditions clear. Stay tuned for more updates."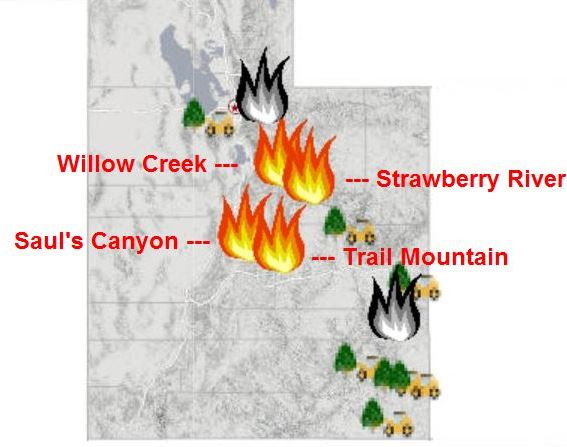 Willow Creek — Active fire, 1,303 acres involved, 35 percent contained. Cause: lightning. Located: Willow Creek fire located North of Highway 40 and Strawberry Reservoir on the Heber-Kamas Ranger District.
Strawberry River — Active fire, 99 acres involved, 75 percent contained. Caused by humans. Located: Just west of the Camelot Resort. Fire is burning in steep rocky terrain with difficult access. Helicopters on scene performing bucket drops.
Saul's Canyon — Active fire, 200 acres, zero percent contained. Caused by lightning.
Trail Mountain — Active fire, prescribed, but turned converted into wildfire. Now 10,605 acres involved, 10 percent contained.