UTAH, May 4, 2021 (Gephardt Daily) — A Utah woman gave birth on a Delta Flight headed from Salt Lake City to Hawaii last Wednesday, and reportedly surprised everyone on the flight — including herself.
Then another passenger's TikTok video went viral after sharing the news.
"Lavinia "Lavi" Mounga gave birth to son Raymond, born prematurely, not previously knowing she was pregnant, according to the GoFundMe page, which says it was set up by sisters of the new mom.
"Thanks to a viral TikTok video, the world found out that our sister, Lavinia, had a baby onboard our Delta flight from Salt Lake to Hawaii," the page says. "Our miracle baby nephew was born 28 weeks along with three hours left on our flight and was such a strong trooper.
"Our sister did not know she was pregnant so she was just as shocked as the rest of us when our nephew was born!"
Passenger care
Mounga lucked out with fellow passengers, who included Dr. Dale Glenn, a family medicine physician, and Kansas neonatal intensive care nurses Mimi Ho, Lani Bamfield and Amanda Beeding, who stepped in to assist in the surprise birth.
"I don't know how a patient gets so lucky as to have three neonatal intensive care nurses onboard the same flight when she is in emergency labor, but that was the situation we were in," Glenn in a statement released by his employer, Hawaii Pacific Health. "The great thing about this was the teamwork. Everybody jumped in together and everyone helped out.
"Basically, you need somebody to watch the mom too because we have two patients, not just one," he said. "Meanwhile we're trying to resuscitate baby, make sure baby's breathing, get baby warmed up. That's a lot of work to do, and we're all trying to work in a very small, confined space in an airplane, which is pretty challenging. But the teamwork was great."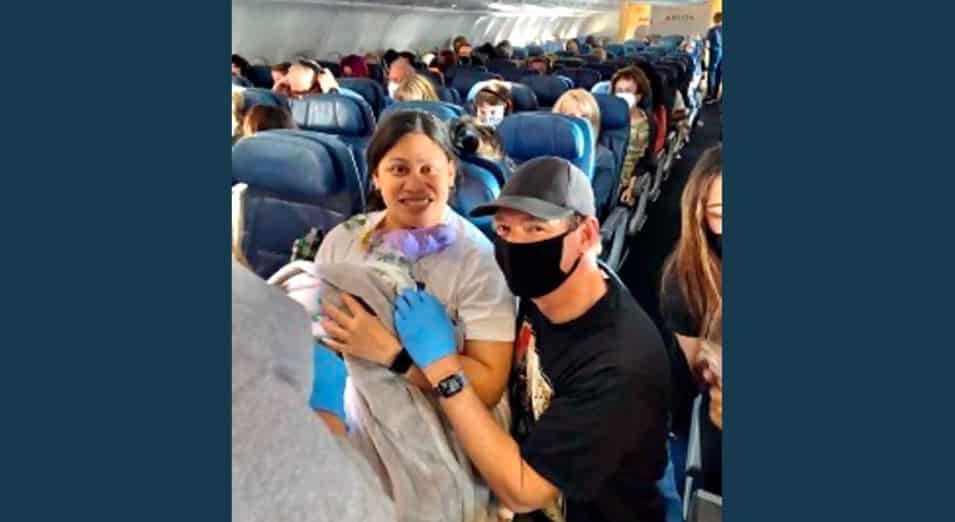 Glenn and the nurses, who work at North Kansas City Hospital, used a couple shoelaces to tie and cut through the umbilical cord, made baby warmers out of bottles that were microwaved, and used an Apple Watch to measure the baby's heart rate, the statement says.
Glenn and the nurses had the opportunity to visit with mom and baby at Kapiolani for an emotional reunion on Friday.
"We all just teared up. She called us family and said we're all his aunties, and it was so great to see them," Ho said.
Fundraising account
The family's fundraising account says its goal is to raise money for mother and son's medical stay in Hawaii, necessitated by Raymond's premature status.
"Baby is currently in the NICU growing stronger and stronger each day. Lavi and baby will be staying in Hawaii longer while baby gets healthy enough to fly back home to Utah," the statement says. "The money donated will be used to help alleviate some of the financial burden of the medical bills as baby will be in the hospital until end of May/June.
"We love our little baby Raymond Kaimana Wade Kobe Lavaki Mounga and can't wait til we are able to bring him back home to Utah."