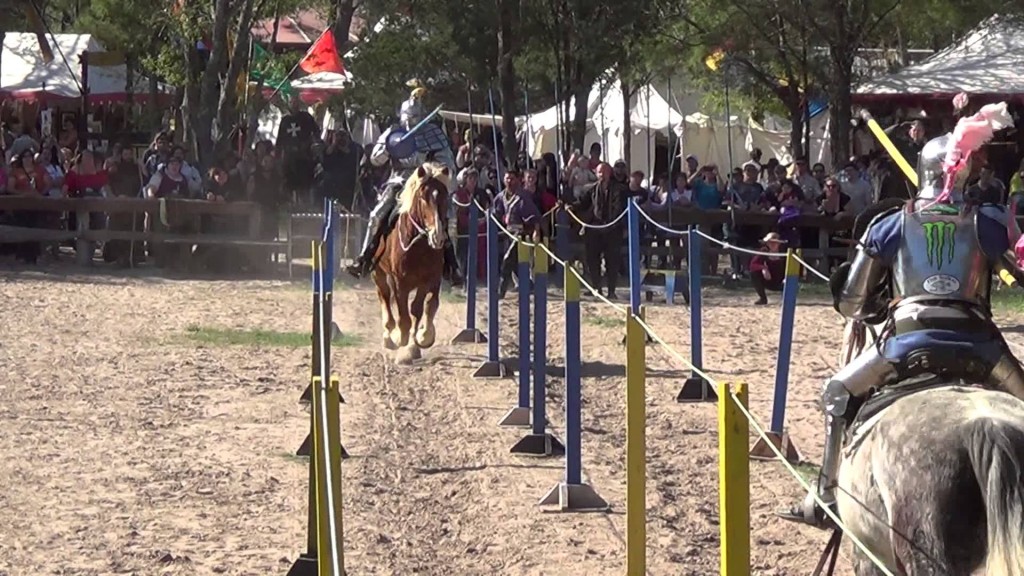 Hard to imagine two 250 lb men, wearing 130 lbs of heavy armor, riding 1800 lb trained war horses, each carrying an 11 foot lance traveling 20 MPH with a collision rate of 5000 lbs per square at the point of impact would sound so appealing to watch, but the world of full armor competitive jousting, known as history's first competitive sport, is making a huge comeback and well worth all the hype.
Meet Charlie Andrews, an Eagle Mountain native and the current reigning World Jousting Champion. Make no mistake, he is the real deal, the 'Knight on a Horse' girls around the world dream of, and this time he's no fairy tale. Aside from being the reigning  World Jousting Heavy Armor Champion, Charlie is a master horseman, MMA fighter, competitor, and a modern day gladiator, making him truly the 'Ultimate Warrior'. Charlie has spent the majority of his life dedicated to bringing jousting to the forefront. He is a pioneer in bringing this pro-sport to the mainstream and his goal is to get professional jousting into stadiums across the continent and put it back on the map. We have to warn you though, jousting isn't for the faint of heart or the weak, and after watching this insane and extremely physical sport, I can't help but agree.
[hdplay id=43 width=700 height=470]
(video courtesy of: knightsofmayhem.com)
In an effort to bring more attention to the sport, National Geographic did a six part series that focused on Charlie and his  "Knights of Mayhem". The series, filmed in 2011, goes deep inside the personal and professional lives of Charlie and his team. All of them are full contact, heavy armor jousters, who are trained in medieval and renaissance warfare. According to Charlie, "You can be the biggest, baddest guy on earth but if you can't put that lance on point and hit the other guy on the target, you need to quit". It take a tremendous amount of training and physical strength, "The violence of a collision when the lance hits is insane. Jousting is not just a competition, or just a sport but in the old days it was used in medieval warfare".
Like Charlie, the team is made up of dominating knights which include MMA fighters, bull riders, professional jousters and pro-sport athletes. Regardless of how tough these men seem they do have a softer side that shows how much compassion they have for others and want to help their community. From handing out roses to little girls in the audience to advocating for those in need, The Knights of Mayhem are admired and loved everywhere they go.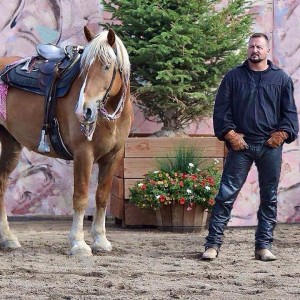 These men may be 'made of steel' but they can't do it alone. It takes a team of extremely dedicated horses to make them indestructible. While Charlie has so much love for all his horses it's his deep bond with his horse Jagermeister that is inspirational and admirable. A love like this is hard to find. Charlie and his horse have been together since Jager's birth 15 years ago and Jager has carried Charlie through all his victories including over 1,000 tournaments, events and competitions. The duo is known to be inseparable and together they are simply unbeatable.
Besides their series on a major network TV station, Charlie and the KOM team have jousted and competed in thousands of shows. There is no doubt that jousting is a full contact extreme pro-sport. It is aggressive and an unavoidable head-on collision. It is a hard core, hard hitting, real action sport. And did I mention heart stopping? The thrill of the show and the impact is enough to send your blood pressure through the roof, if there is one. Many of the jousting events are held at Renaissance Fairs but they can testify that these performances are anything but a reenactment.
Charlie's accomplishments don't stop at just the Knights of Mayhem and his repetitive World Championships. Known as "Armageddon" he is looking forward to his next MMA fight on April 4th, if his jousting schedule allows the availability. It  comes with great anticipation after tearing his ACL during his winning knock out against Ryan Gunderson back in May.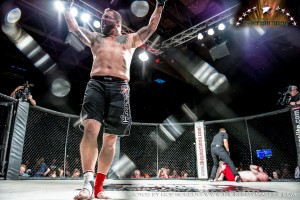 Recently, I had the pleasure of meeting Charlie Andrews up at Sundance. Despite his confident and very strapping appearance, he was sweet, charming and very personable. It was easy to see how many followers of "Knights of Mayhem" just can't seem to get enough of him.
If you're interested in more information on Charlie and the Knights Of Mayhem, you can go to their website KnightsofMayhem.com, visit and like their Facebook page or you can watch the full episodes or order copies of the whole series on Amazon and TV.com. You can also find copies for sale on Ebay.
Watch our exclusive interview with Charlie to get a glimpse of life in the Joisting world.