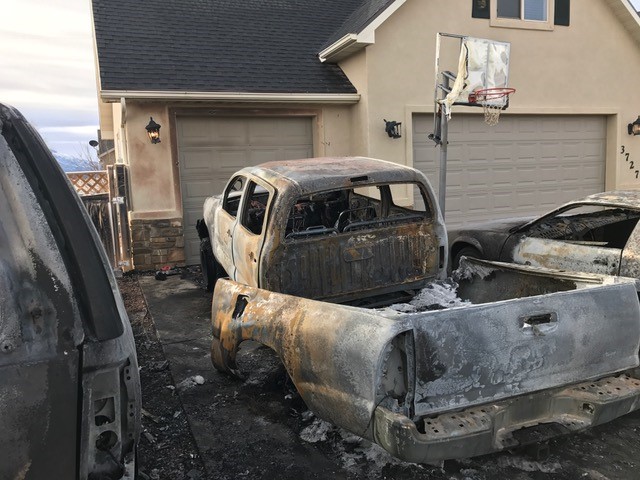 CEDAR CITY, Utah, Jan. 10, 2017 (Gephardt Daily) — A suspect is set to be charged with six counts of arson after a string of vehicle fires causing tens of thousands of dollars worth of damages in Cedar City.
The suspect has been identified as Isaac Wall, 23, from Beaver, said Cedar City Police Department in a news release.
The news release said the department is investigating six vehicle arson incidents which occurred Tuesday between 1 a.m. and 3:30 a.m. The fires were at four different locations in Cedar City.
During the investigation, detectives received information that the suspect was seen running from the scene of the first reported vehicle fire, and he was subsequently identified as the ex-spouse of a female living at this location. An attempt to locate was broadcast containing a description of the suspect and the vehicle he has been known to drive. An off-duty Cedar City officer located the suspect vehicle near Ridge Road and Rose Hill Drive.
The suspect was safely taken into custody and transported to the Cedar City Police Department to be interviewed.
After interviewing the suspect, it was determined the other fires were set randomly by him. The suspect will be booked into the Iron County Jail and charged with six counts of second degree felony arson.
There is still no actual damage amount estimate. Four of the six cars were totally destroyed.