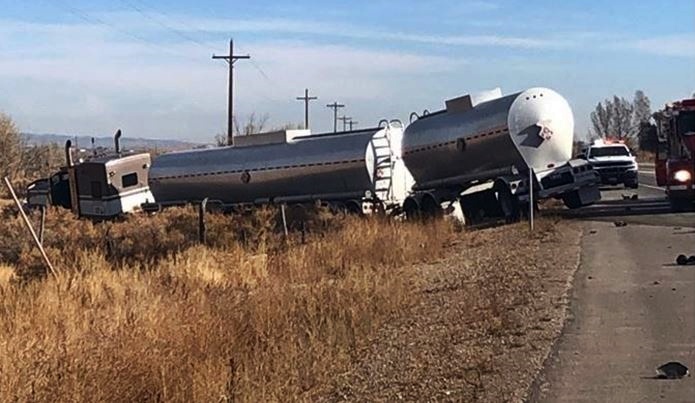 DUCHESNE COUNTY, Utah, Nov. 7, 2019 (Gephardt Daily) — A Vernal man is dead after a collision in Duchesne County, near Myton, on Wednesday morning.
The accident reportedly happened at 7:25 a.m. on U.S. Route 40.
"A Honda Civic was traveling westbound on US-40 at MM 100," a Department of Public Safety statement says.
"A semi tractor pulling a tanker and pup was traveling eastbound at the same location. The Civic suddenly swerved in front of the tractor trailer and a head-on collision was a result. The Civic was thrown off of the north shoulder of the roadway and the tractor drove off of the same shoulder."
Truck driver was not injured. The driver and only occupant of the Honda Civic was wearing his seatbelt, but it broke, and the driver was ejected from the car, the DPS statement says.
The man, identified as Vernal resident Joshua D. Mordecai, age 43, suffered fatal injuries.
A GoFundMe page set up indicating funds raised will help pay funeral costs and other expenses has been set up by someone who describes herself as a family friend.
"Josh Mordecai was tragically killed in a car accident the morning of November 6, 2019," the page says, in part. "He had a heart of gold and was always trying to make the world a better place. He was a husband, father, son, friend, and mentor that will be sorely missed. Anyone that knows Josh knows how passionate he was about life, his family, and those around him."