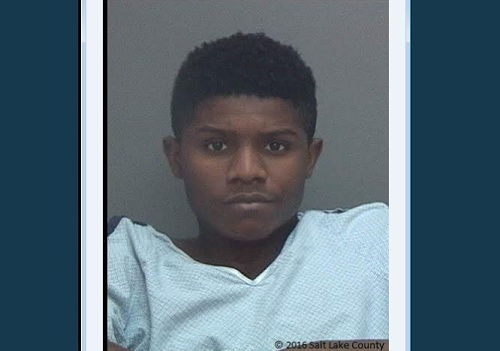 SOUTH SALT LAKE, Utah, Feb. 22, 2016 (Gephardt Daily) — Police have confirmed the fourth victim, and sole survivor of a deadly shooting that killed three others in South Salt Lake, has now been arrested for murder.
According to South Salt Lake Police Sgt. Gary Keller, 19-year-old Gerald Grant was transferred from the hospital, still in serious condition, to the Salt Lake County Jail Friday on three counts of first-degree murder.
"From what we know right now, witnesses were told by the suspect that he shot three people," Keller said. "We still have no word of a motive, but we know the shootings occurred inside the vehicle after it stopped abruptly near 325 East Park Creek Lane (3060 South), right in the center of the road."
"It appears there was an altercation that went bad and ended in gunfire," Keller said. "We found two handguns at the scene, one inside the vehicle and one outside."
South Salt Lake Police were first called to the shooting scene around 8 p.m. Thursday.
When officers arrived, they found two brothers and a juvenile inside a gray Ford Explorer.
The first victim, identified only as a 17-year-old male, who was found in the back seat, died at the scene.
Two brothers, ages 19 and 20, were taken to the hospital in critical condition. Both passed away over the weekend.
A fourth victim, Grant, showed up on his own at the University of Utah Hospital with a gunshot wound to his left leg. He is now housed at the jail infirmary where Keller said he continues to be treated for his injuries.