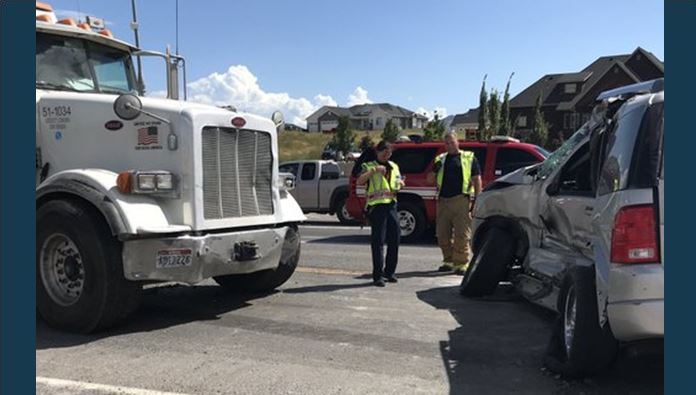 EAGLE MOUNTAIN, Utah, Aug. 20, 2019 (Gephardt Daily) — Officials have identified a woman who succumbed to her injuries after being critically injured Thursday in Utah County.
"The woman who sustained critical injuries in yesterday's crash in Eagle Mountain has died as a result of her injuries," says a tweet issued by Utah County Sheriff's spokesman Sgt. Spencer Cannon.
"Her name is Kayla Williamson. She was 23 years old, from Idaho, but had recently been living in Lehi."
In an early statement, Cannon said that accident happened at about 2:15 p.m. Thursday.
"Witnesses told deputies a small SUV was driving south on Sunset Drive approaching Cory B. Wride Highway. There is a traffic light at this intersection and witnesses said the light for the SUV was red and the driver failed to stop."
A large dump truck carrying a full load of asphalt was driving west on Cory B. Wride Highway. Witnesses also said the westbound light was green. The driver of the dump truck was unable to avoid the SUV, officials said.
The driver of the SUV, now identified as Williamson, was flown to Utah Valley Hospital in Provo, in extremely critical condition. A friend of the injured woman told deputies he was talking to Williamson by phone when this crash occurred, the earlier UCSO statement says.
It was the first of two Eagle Mountain accidents that day that officials said was caused by distracted driving. The father and 13-year-old daughter involved in the second accident survived with minor injuries.