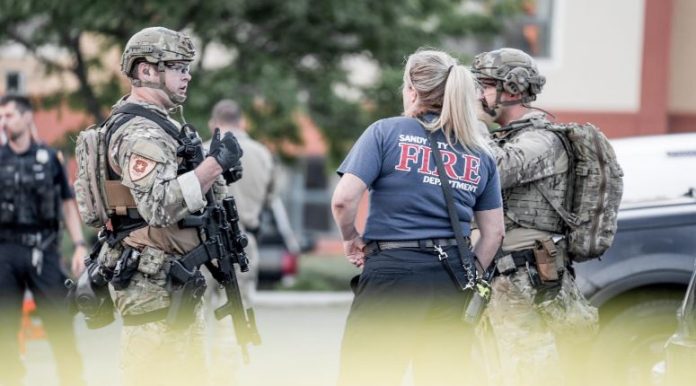 SANDY, Utah, May 27, 2023 (Gephardt Daily) — A violent fugitive was taken into custody Friday night at a Sandy hotel.
A news release issued Saturday by the Salt Lake City Police Department says 32-year-old Zachary Forsberg was arrested on a third attempt that day.
"At approximately 3:50 p.m. on Friday, May 26, 2023, the SLCPD's VCAT Squad attempted to contact, and arrest, 32-year-old Zachary Forsberg inside a hotel located in the 7500 block of S. Union Park Avenue, Sandy," the statement says. VCAT stands for Violent Criminal Apprehension Team.
"Once VCAT detectives confirmed Forsberg was inside the hotel room, they tried calling him and knocking on his door, but they never received a response. Earlier in the week, on Monday, May 22, 2023, SLCPD patrol officers responded to an address near 500 S. Cheyenne St. to investigate a domestic violence incident," the SLCPD statement continues.
Forsberg ran from the house.
Patrol officers set up a perimeter around the house and began a search looking for Forsberg. Officers believe Forsberg left the neighborhood before officers arrived. At the time of the domestic violence incident, Forsberg had an outstanding parole warrant for aggravated assault and was under the supervision of Utah's Adult Probation and Parole.
"VCAT detectives worked with SLCPD detectives and developed information about Forsberg's location at the hotel in Sandy. SLCPD crisis negotiators reached Forsberg by video conference and asked him repeatedly to exit the room," the police statement says.
VCAT and SWAT officers learned Forsberg had barricaded himself inside.
"At approximately 9 p.m., on Friday, after obtaining a court-authorized search warrant, SWAT officers used a device to breach the hotel room door, which resulted in Forsberg surrendering without further incident."
Forsberg will be booked into the Salt Lake County Metro Jail on his outstanding warrant. The statement says additional charges may be forthcoming.
Gephardt Daily will have updates when further information is available.