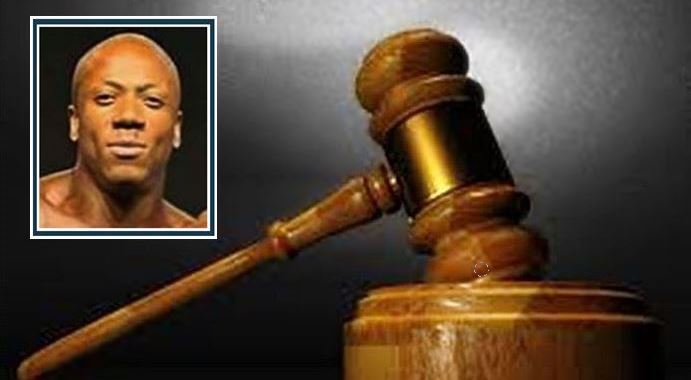 SALT LAKE COUNTY, Utah, July 12, 2019 (Gephardt Daily) — A well known California bodybuilder is the subject of an arrest warrant that accuses him of sexually assaulting a woman in Sandy.
Shawn Rhoden, 44, a resident of Santa Barbara, California, has been accused of rape, a first-degree felony; object rape, a first-degree felony; and forcible sexual abuse, a second degree felony.
According to a probable cause statement, Rhoden is accused of attacking the woman, described as a "competitive female bodybuilder," on Oct. 12, 2018, in a guest room at the Marriott Courtyard Hotel, in Sandy.
The statement alleges that Rhoden — whose bodybuilding nickname is "Flexatron" — kissed the woman, then pushed himself against her, revealing he was sexually excited.
"She asked him to stop repeatedly and tried to push him away," the probable cause statement says. The woman said the rape began shortly afterward.
"(The woman) was scared because Rhoden is much bigger and stronger than she is, and he was easily overpowering her," the statement said.
After the assault, the woman told Rhoden she needed to go downstairs because a photographer the two had met with earlier "would know something (was) up."
"Rhoden let her leave, and (she) contacted her husband and the police."
The warrant — signed by Salt Lake County Attorney Sim Gill and served Thursday, according to online court records — sets Rhoden's bail at $750,000.
Rhoden has not yet been booked into the Salt Lake County Jail system, officials said Friday afternoon.
Rhoden won the 2018 Mr. Olympia title, his Wikipedia page says. His also placed in that competition in 2016 (second place); 2015, 2014 and 2012 (third place); 2013 (fourth place); 2017 (fifth place); and 2011 (11th place).
In addition, Rhoden has placed in competitions in Kuwait, Prague, Dubai, Australia and Britain, the Wikipedia page says.