WASATCH COUNTY, Utah, Dec. 14, 2019 (Gephardt Daily) — A search and rescue crew was called to the scene Friday afternoon when three men in their 50s became stuck while snowmobiling in a backcountry area.
"Wasatch SAR was called after a 911 caller reported a hearing a distress call on a BCA radio," a Facebook post from Wasatch County Search & Rescue says.
"Three snowmobilers had become stuck in the Little West Fork of the Duchesne drainage. They were lucky that another party had his radio on the same channel."
SAR crews responded  at 3:15 p.m.
"Wasatch SAR teams deployed to search the area and found all three men together, in good shape, but quite stuck in the deep snow."
The rescue operation took about three hours, the post says.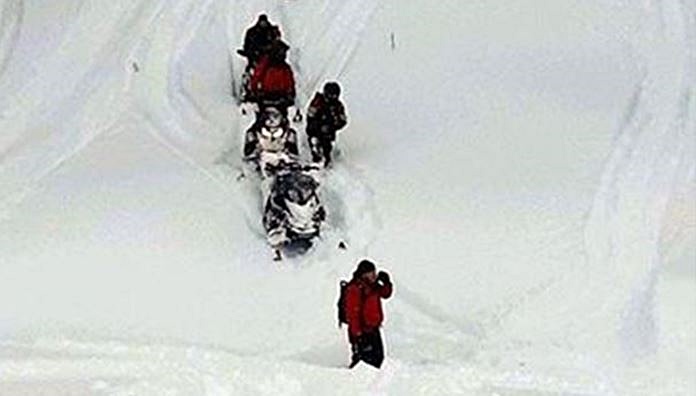 And that rescue came less than 24 hours after the previous one, in which Wasatch County S&R crews rescued a another man in his 50s, this one a skier.
Crews responded to a distress call that came in at 6:25 p.m. Thursday.
"Wasatch SAR was called to locate a skier (male age 52) that had taken a wrong turn off of Brighton Ski Resort," a Thursday post says.
"This area is located at the top of Snake Creek in Wasatch County. This area is very rugged with lots of Avalanche Zones. The Avalanche Danger is off the charts today with all the wet snow.
"SAR was able to locate this skier and transport him off the mountain. You can see winter is well under way in the high country.
#wcsar #sledrescue."
That operation took four hours, the Wasatch SAR post says. To see a few seconds of that snowy rescue, watch the video below.
Skier RescueDate: Dec. 12, 2019, 6:25pmDuration: 4.0Who: Male, Age 52Wasatch SAR was called to locate a skier(male age 52)that had taken a wrong turn off of Brighton Ski Resort. This area is located at the top of Snake Creek in Wasatch County. This area is very rugged with lots of Avalanche Zones. The Avalanche Danger is off the charts today with all the wet snow. SAR was able to locate this skier and transport him off the mountain. You can see winter is well under way in the high country. #wcsar #sledrescue

Posted by Wasatch County Search & Rescue on Thursday, December 12, 2019