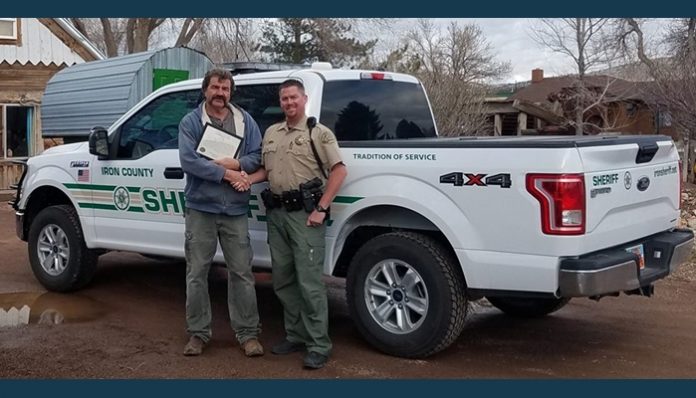 CEDAR CITY, Utah, March 27, 2018 (Gephardt Daily) — A Washington County man has been honored for helping authorities locate and arrest a suspect connected with an Amber Alert in December.
Iron County Sheriff's Deputy Jobe Peterson presented Jospeph Paul with the award for Outstanding Citizenship on March 16, according to a news release from Iron County Lt. Del Schlosser.
The award is related to the case of Samuel Shaffer and John Alvin Coltharp, charged last month with child bigamy after officials say they married each other's daughters, who were ages 7 and 8.
The men both follow a faith called The Knights of the Crystal Blade, which has been widely described as a doomsday cult.
An Amber Alert was issued after two of Coltharp's daughters were reportedly kidnapped by Shaffer, believed to be the cult's leader. Shaffer also reportedly had his own two daughters with him.
On Dec. 4 of last year, following the issuance of the Amber Alert, Paul set out from his home to see if he could be of assistance in locating the girls or Shaffer.
"While out looking in the area Paul observed a male subject walking along the Railroad Frontage Road near Lund," the news release said.
"The subject matched the description of the male from the Amber Alert (Shaffer). Paul made contact with the male and called this information in to Cedar City Communications Center. Paul remained in the immediate area keeping a close watch on the male until the arrival of an Iron County Sheriff's deputy."
Both men's daughters were subsequently found in Iron County at or near the cult's compound in Lund. Two girls were found in a trailer and two others were found in empty 50-gallon water drums.
Neither location had any source of heat and the girls did not have adequate clothing for the harsh elements, the news release said.
"Paul's quick-thinking and intuition that night ultimately saved the lives of the four girls who had been kidnapped by Shaffer. Due to heinous treatment by Shaffer, the four girls were in extremely poor health and physical condition," the news release said.
"Paul's actions proved instrumental in the ensuing search by Iron County Sheriff's deputies which ultimately located the girls and led to the quick apprehension and arrest of the male, Samuel Shaffer."
A judge rejected Shaffer's wish to withdraw his guilty plea last week. He is scheduled to be sentenced May 8.
Coltharp would not agree to a plea deal offered by Sanpete County prosecutors, and a judge has set a July trial date.