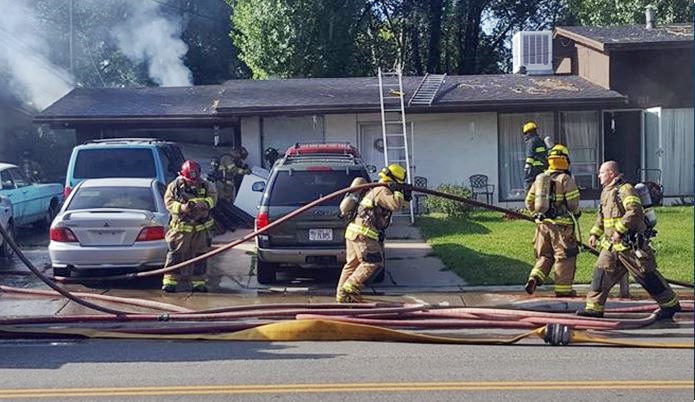 WASHINGTON TERRACE, Utah, Aug. 17, 2019 (Gephardt Daily) — A fire Saturday morning in Washington Terrace displaced a family of seven, but they and their pets made it out  safely.
Chief Clay Peterson, Washington Terrace Fire Department, said the fire was called in at 9:14 a.m. Saturday. Crews responded to the scene, at 211 W. 4800 South, from fire stations in Washington Terrace, Riverdale, South Ogden, and Ogden, and from the Weber Fire District.
As crews worked, a dozen or more concerned neighbors watched from nearby sidewalks and lawns. Smoke billowed from the garage, and seemed to be seeping out from under the eaves of the entire house.
But the fire wasn't as widespread as it looked, Peterson told Gephardt Daily. The garage, filled with personal items and things the family had stored, was a total loss. But the smoke wafting from under the eaves was also from the garage, not from the living area.
Peterson said the home's interior is uninhabitable due to smoke damage and fire retardant, but once those are handled, the family should be able to move back in. Meanwhile, the Red Cross is helping the family find temporary housing, he said.
The resident were a father and mother, ages 64 and 54, and their five children, ages 5 through 18, Peterson said.
The fire's cause and an estimate of the financial loss were still being determined, he added.
"Nobody was injured and the pets were saved," Peterson said. "That's a good outcome."