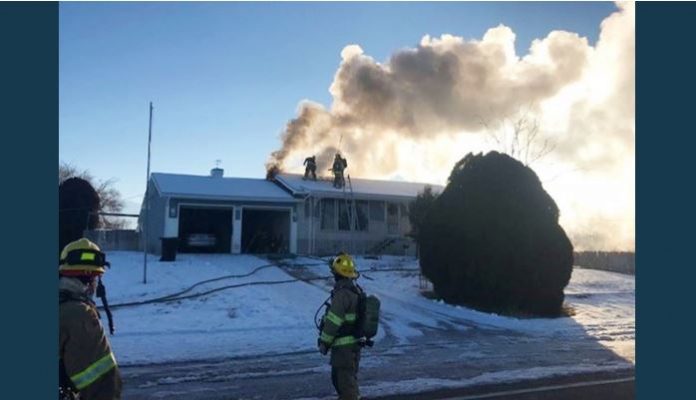 WEBER COUNTY, Utah, Jan. 8, 2019 (Gephardt Daily) — A Weber County Sheriff's Office corrections officer driving through an unincorporated part of the county on Tuesday noticed some unusual smoke, and was able to alert residents that their home was burning.
"On Jan. 8, 2019, Weber County Sheriff's Office Corrections Lt. Joshua Marigoni was driving in the area of 2850 S. 4700 West in the unincorporated area of Weber County when he noticed an unusual amount of smoke coming from the attic vents of a home," a statement from the Sheriff's Office says.
The residence was near 2850 S. 4700 West, in Weber County, west of Ogden.
"Lt. Marigoni investigated further and found the home was on fire and the occupants were not aware," the statement says.
Marigoni talked to the homeowner and alerted him to the fire. A woman in the residence, who was in bed, was also alerted and evacuated.
"Lt. Marigoni was able to evacuate the home owners and the animals from inside the home. Other deputies arrived to assist as well as Weber Fire.
A fire in the attic was spreading quickly, the statement says.
"Weber Fire Chief Sullivan advised that if it were not for the quick actions of Lt. Marigoni, the occupants of the home could have been seriously injured or even died."
The home sustained serious damage, the statement says. No one was injured, including the family pets.