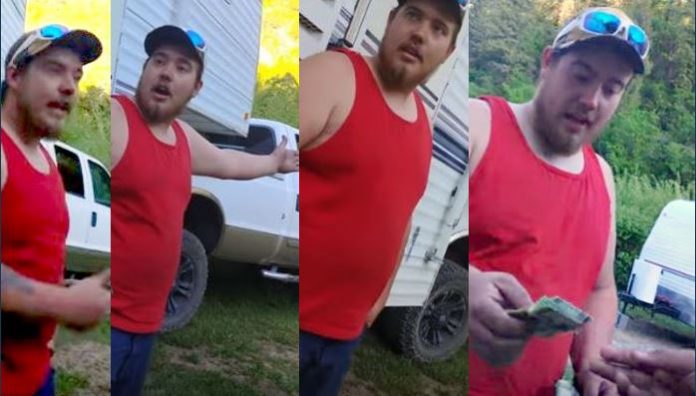 OGDEN, Utah, June 1, 2018 (Gephardt Daily) — A Weber County employee has been fired after a video of him berating and cursing out a Hispanic family went viral.
The incident happened over Memorial Day weekend when Jose Caballero said he and his family were unable to move their trailer from a camping area at Cache County's Blacksmith Fork Canyon due to mechanical problems with their truck.
Wyatt Pack ordered the family to vacate the space. He boasted on the video he was a diesel mechanic for Weber County, and he used graphic language and angry tones to insult the intelligence of Caballero.
Pack then said he and the people with him would move the trailer, "But you're going to pay us for it. How much money do you got?"
The family, from Tremonton, came up with $40, which Pack took. On the video, a woman speaking in Spanish used calming tones to talk to two young boys, who were fighting back tears, and later began crying.
The video has been viewed nearly 100,000 times on its original YouTube page, and more times on news sites.
The video can be viewed at the bottom of this page. Be aware that it still contains the graphic language. Pack can be heard cursing 17 times in the first 4:30 minutes of the video while the Caballero family remains even-toned and respectful.
Weber County first placed Pack on administrative leave. On Friday, it announced his termination:
Weber County employees are expected to act in a professional and courteous manner at all times and to refrain from engaging in activities that reflect poorly on the county. Policy specifically prohibits using offensive language towards the public as well as engaging in intentional or unintentional acts contrary to public service, or acts that harm or would reasonably be expected to harm the reputation or image of the county or department.
After viewing the video of Mr. Pack, Weber County Human Resources promptly conducted an investigation, which included Mr. Pack's right to due process, and determined that he was in direct violation of County policy. Effective Friday, June 1, 2018, Mr. Pack's employment with Weber County has been terminated.
In Weber County, we value doing the right thing and being a positive part of the community. We recognize that a majority of our employees work hard to make our community the best place to live, work, and play. We thank them for their efforts and look forward to more winning in Weber!