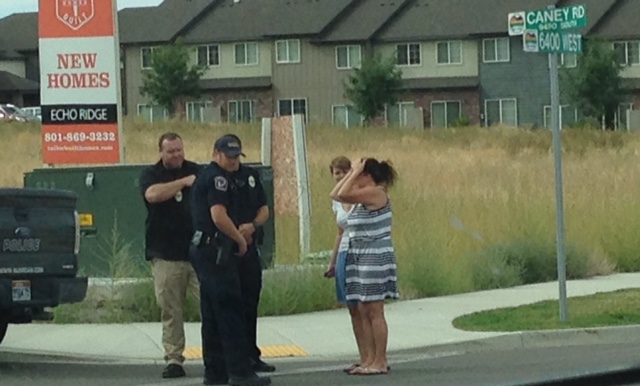 SALT LAKE CITY, UTAH – October 14, 2015 (Gephardt Daily) – The officer involved shooting of a suicidal West Jordan father in August was justified, the Salt Lake County District Attorney's Office has found.
The incident on August 26 occurred when the father aimed a weapon at a policeman who was trying to rescue young children from the family home.
After conducting a routine Officer Involved Critical Incident (OICI) review, the Salt Lake County District Attorney's Office has determined that the Use of Deadly Force by a West Jordan Police Department Sgt. was legally justified.
According to West Jordan Police Sgt. Dan Roberts, officers responded to a hostage situation at 9493 S. Alane Hollow Road around 2:30 p.m. He said police had received a call from a woman saying her husband, Kyle Lambrose, 27, was suicidal and threatening their children at that address.
After a 45 minute stand-off, police observed three children, ages three, four and seven, standing in the window of a room on the second floor of the home.
An officer used a ladder to enter the room when he was confronted by Lambrose who emerged from an adjacent hallway.
Police said the officer shielded the children as Lambrose raised his gun. The officer fired one shot, fatally wounding Lambrose, who was pronounced dead at the scene.
Police said Roberts appeared to have been barricaded inside the home, but details are still emerging. They said at one point during the stand off Lambrose fired at least one shot although no one was injured.
The veteran police officer who shot and killed Lambrose was placed on paid administrative leave.
The Salt Lake County District Attorney's Office is required by Utah State law, and operates pursuant to an agreement with participating law enforcement agencies and consistent with established protocols and applicable law, to perform joint investigations and independent reviews of officer involved critical incidents including police officers' use of deadly (including potentially deadly) force used in the scope of police officers' official duties.