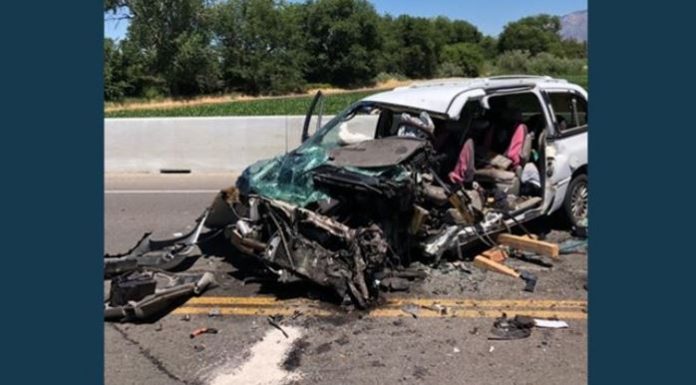 WEST WEBER, Utah, June 25, 2018 (Gephardt Daily) — A 49-year-old West Jordan man was transported to the hospital in critical condition Monday after his minivan collided with a semi-truck on 1150 South in West Weber.
Weber County Sheriff's Sgt. Cortney Ryan told Gephardt Daily the crash happened at about 11:52 a.m., when the minivan was westbound on 1150 South and drifted into the eastbound lane near 5600 West.
The van crashed into the side of a semi and was wedged between the cab and the trailer, Ryan said.
He said it took Weber Fire District responders about half an hour to extricate the man from his vehicle.
The injured man was flown by medical helicopter to a local hospital. His condition was upgraded to stable later Monday.
The driver of the semi was not injured.
Ryan said the crash is under investigation and officials still have to talk with the man, but they do not believe alcohol or drugs were a factor in the accident.
"We're in the 'deadliest 100 days' of summer," Ryan said. "Everyone needs to remember to be extra careful out there."