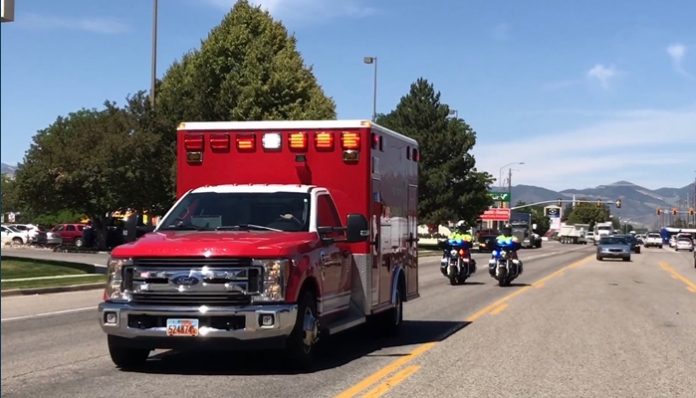 WEST JORDAN, Utah, July 3, 2019 (Gephardt Daily) — A West Jordan motorcycle officer is in fair condition after being hit by a vehicle in the area of 9000 South and Bangerter Highway Wednesday morning.
West Jordan Police Sgt. J.C. Holt told Gephardt Daily two motor officers were traveling on 9000 South eastbound near southbound Barngerter when they came up to a light at approximately 11:15 a.m.
"It was reported that they were possibly lane filtering, and there were two of them, one officer in the front and one in the back," Holt said. "The officer in the front was alerted by a driver that there was a problem behind and looked behind him and the officer that was behind him was off the bike and had collided with a vehicle."
The initial report is that the officer was transported by ground to an area hospital and was awake, conscious and breathing. He is in fair condition, Holt said.
"He was a little bit dazed and a little bit confused by what had happened," Holt added.
The investigation into the incident is underway and officers are on scene diagramming and taking photographs. South Jordan Police Department will be overseeing the accident investigation, as is standard protocol.
At 3 p.m., West Jordan police tweeted: "Officer is going to be OK. He is being released from the hospital."
Gephardt Daily will have more on this developing story as information is made available.