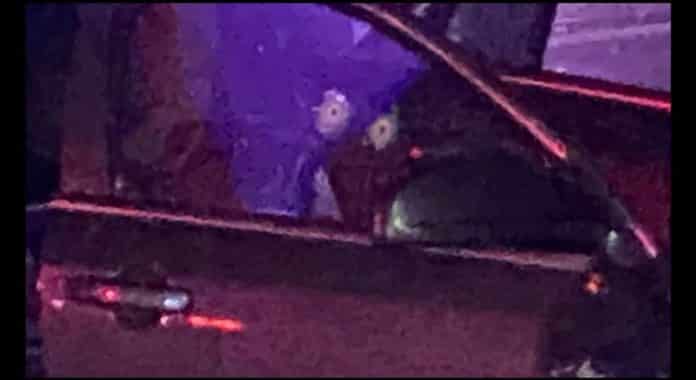 The 19-year-old victim has died. Click here for an updated story.
WEST JORDAN, Utah, May 10, 2021 (Gephardt Daily) — Police investigating a multi-vehicle crash on Redwood Road in West Jordan Sunday night discovered the driver of one of the vehicles had been shot and seriously wounded.
West Jordan Deputy Chief of Police Jeremy Robertson said officers were notified at 9:44 p.m. of a traffic accident with injuries at 7800 S. Redwood. He said three or four vehicles were involved in the crash.
"One of the drivers had gunshot wounds," Robertson said at the scene, and police found shell casings in the area and bullet holes in the victim's vehicle. It is currently unknown how many times the driver was shot.
The wounded driver was transported to the hospital in very serious condition. Robertson had no information as to the victim's age or gender.
Witnesses told West Jordan police investigators two vehicles were racing or chasing each other when shots were fired from a low-profile Chrysler 300, dark-gray or silver in color with tinted windows.
The investigation is in the very early stages, and Robertson said officials are looking into either a case of aggravated assault or a possible homicide.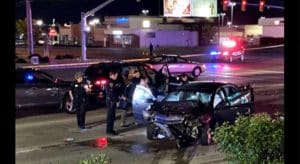 "We're still investigating details, interviewing witnesses, trying to figure out a motive," he said.
The crime scene covers a large area — perhaps a quarter-mile — and Robertson explained that in the initial stages of the investigation, officials want to obtain as much evidence as possible. He said they will gradually narrow the scope as evidence is found.
Shell casings could be seen a couple of blocks south of the crash site on the northwest corner of Redwood Road and 7800 South.
The shooter fled the scene and no one is in custody at this time, but Robertson said there is no reason for the public to be on edge. He said more information will be released as the police gather more details and have a description of the suspect.