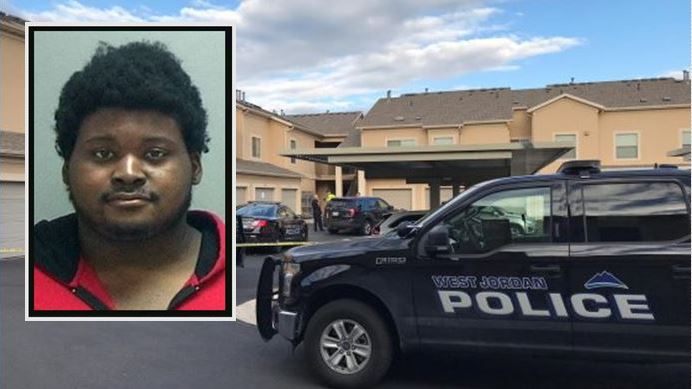 WEST JORDAN, Utah, Oct. 132, 2018 (Gephardt Daily) — A West Jordan Police official has revealed the identity of an armed man shot and killed by one of three officers who responded to domestic violence call.
Sgt. J.C. Holt, WJPD, said the dead man is Diamonte Riviore, 22, and that he had been arrested a week earlier after a call from the same apartment, which Riviore had shared with his girlfriend and their 9-month-old child prior to a separation.
Holt said WJPD officers were dispatched at 4:19 p.m. Thursday on a report of domestic violence.
"It was reported that the male suspect was armed with a knife, was threatening his girlfriend," Holt said. "We do have some history at the house, we're familiar with the individuals."
"So he (Riviore) was out of jail, come back to the home, unwelcome of course. She had called (texted a code word to) a family member (her mother), and we had responded with three officers.
"Were able to get in the apartment through the girlfriend," Holt said. "He remained armed with the knife. We had two officers that deployed Tasers, tried to use that to stop him. The Tasers weren't effective, they didn't work."
Holt said the suspect continued to approach police with a knife and the apparent intent to use it.
"The officers were trying to neutralize that threat, and weren't successful in doing that with the Tasers, and had to use deadly force, unfortunately," Holt said.
The officer who shot fired twice, hitting Riviore in the chest, killing him at the scene.
Another agency, the Unified Police Department, will investigate the case, in keeping with protocol for officer-involved shooting cases. Holt said among other things, they will examine body camera footage of the incident, which is unlikely to be released to the media until further in the investigation.
Holt said the woman and infant were both very shaken, but it is hoped that the child is too young to retain a full memory of what happened.
The officer who fired the fatal shots, who has been on the force less than two years, is on administrative leave during the investigation. That is also in keeping with protocol.
Holt said officers are often injured during domestic violence calls. "They are volatile," he said. "There are a lot of emotions involved."