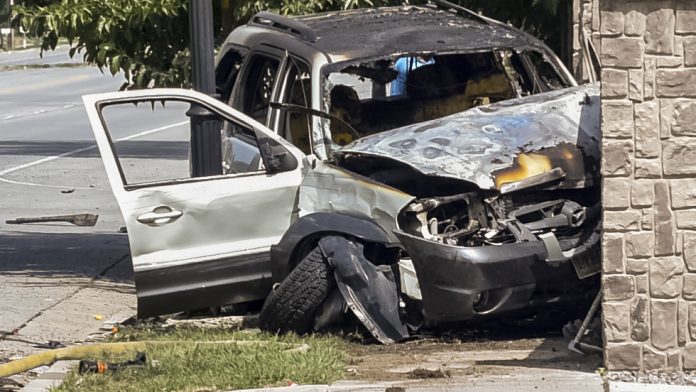 WEST JORDAN, Utah, Sept. 4, 2018 (Gephardt Daily) — A West Jordan police officer is being praised for his quick actions Tuesday after he pulled an accident victim from her heavily damaged SUV just seconds before it burst into flames.
South Jordan Fire Battalion Chief Michael Richards told Gephardt Daily the woman was driving in the vicinity of 11399 Redwood Road about 12:15 p.m. when her SUV swerved off the road and smashed into a concrete wall.
According to Richards, the West Jordan patrol officer who was first to arrive at the accident site was approaching the vehicle when he realized it was burning. He quickly pulled the injured driver from the SUV and within a matter of seconds the vehicle was engulfed in flames.
The driver — who name has yet to be released — was thought to be in her 40s or 50s, Richards said.
She was taken to the hospital with what Richards described as "moderate injuries."
Richards praised the work of the West Jordan officer who saved the woman, calling his actions "lifesaving" and "commendable."
The cause of the accident remains under investigation.
Hero Cop Saves Accident Victim