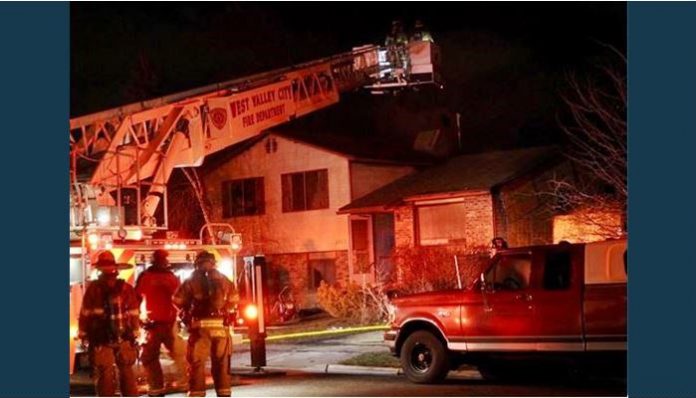 WEST VALLEY CITY, Utah, Feb. 15, 2019 (Gephardt Daily) — A house fire believed to have been knocked down by West Valley City fire crews early Thursday evening sparked back to life nine hours later, forcing crews back to the home to battle a second round of flames.
The initial fire, which happened at about 5:30 p.m. Thursday, appeared to be out, but reignited from an undetected hot spot at about 2:30 a.m. Friday.
"We thought we had everything taken care of, but there was something smothering up by the swamp cooler, up on the roof, and with time, it heated up enough to start again," Bob Fitzgerald, West Valley City Fire Department Battalion Chief, said at the scene, 2967 S. 4825 West.
"We're lucky that someone was out walking the neighborhood that saw little bits of flame coming, so he called it in and we came out and have been working to make sure we get everything out."
Fire officials had used thermal cameras to search for hot spots not visible to the naked eye, Fitzgerald said.
"Sometimes the're just hidden very well," he said.
Five people had lived on the property, three in the house and two in a trailer with an electrical cord running to the residence, Fitzgerald said.
The earlier fire destroyed the trailer and damaged the house. Fitzgerald said the house was not a total loss, but would need a new roof, among other repairs. The first fire got into the house's attic, he said, and with "attic fires, it's always difficult to get out all of the hot spots."
Crews on Friday morning were taking special care to check for hidden hot spots.
"It's never something we like, to come back to a fire we thought we put out, so we are taking extra precautions."
No one was in the home at the time of either fire. No injuries were reported.