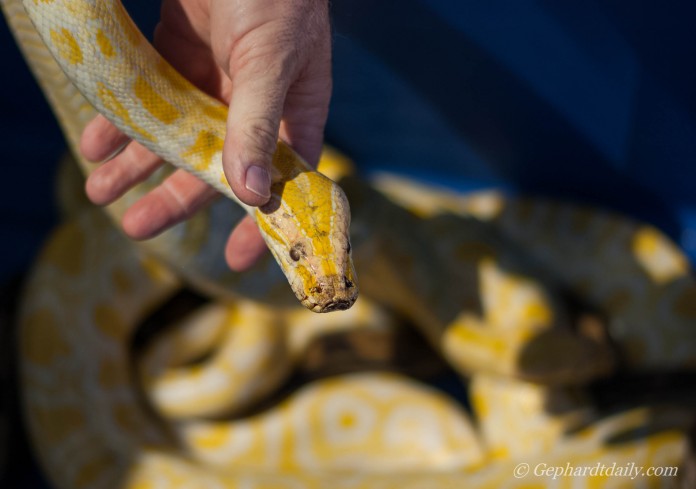 WEST VALLEY CITY, Utah, April 6, 2016 (Gephardt Daily) — An overnight fire in West Valley City left residents and their numerous snakes and other pets without a place to stay.
The West Valley Fire Department was called to the home, at 7105 W. Kings Estate Drive, at about 1 p.m. The garage, containing the renter's car, was fully engulfed, and fire was spreading to the home's attic and basement.
West Valley Fire Battalion Chief Joe White said it took about 15 minutes to get the fire under control. The residents escaped unhurt, with their dogs. Several of the snakes reportedly freed themselves from cages. Two cats died, as did two snakes.
The renter called Jim Dix, of Utah Reptile Rescue, to pick up the surviving snakes and lizards.
"I know the guy personally, and he lost everything he owned," Dix said. "The cats wound up running and hiding, and died from smoke inhalation." A third snake will probably have to be put down due to injuries, Dix said.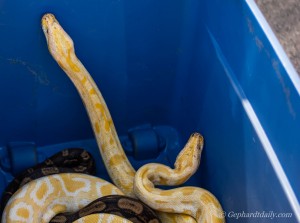 Dix took in seven snakes, including two albino Burmese pythons, each about eight feet long; a blood python; a motley boa; an albino boa; and a red tail boa with its mouth burned, he said. He also took in two Savannah monitors that seem to be OK, Dix said.
"That's not a lot of snakes," Dix said. "Some hobbyists have as many as 100. The animals are legal, and are sold in pet stores."
Dix said many exotic snakes require tropical temperatures, and animal shelters are not set up to accommodate reptiles' needs.
The renters said they left a fire burning in the fireplace to provide warmth for the snakes. Fire officials believe the fireplace fire may have spread to other parts of the residence.
Dix took the rescued snakes to an exotic pet veterinarian on Wednesday afternoon. See photos of the animals below.