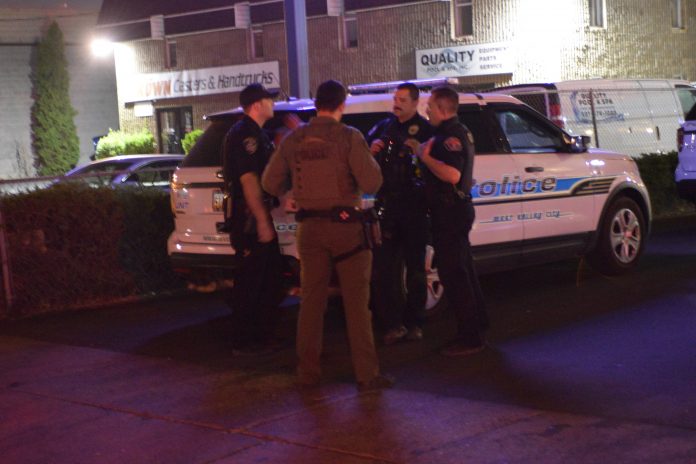 Suspects arrested. For an updated story, click here.
SOUTH SALT LAKE, Utah, Aug. 14, 2018 (Gephardt Daily) — A day of solid police work, followed by a series of the right decisions, resulted in the safe recovery of a 17-year-old kidnap victim late Monday night.
West Valley City Police Deputy Chief Robert Hamilton told Gephardt Daily that Utah County Major Crimes detectives were working on an unrelated investigation earlier in the day when they developed information that a 17-year-old male had been kidnapped out of West Valley City.
It was believed the teen had been kidnapped in relation to a drug crime, Hamilton said.
"They reached out to us, notified us," he said. "West Valley City detectives in conjunction with the Salt Lake City FBI field office and Utah County Major Crimes worked throughout the day."
Hamilton said the officers had a lot of technical help available, "but really, it came down to good, old-fashioned detective work."
They checked surveillance video from the area in which the teen had been taken and spoke with possible witnesses, getting vehicle descriptions and other information.
The leads they had brought officers to a Motel 6 at 300 W. 3300 South in South Salt Lake, where they set up surveillance. When one of the suspects left the motel, officers were able to pull him over in a traffic stop and take him into custody.
But that still left police with a hostage situation to resolve.
The first step was to evacuate the area for everyone's safety.
"As soon as we made contact with the suspects in this case, they surrendered and the hostage came out unharmed," Hamilton said.
The teen was reunited with his mother.
Police do not think the incident was gang-related.
"Right now, we believe he was kidnapped in relation to that drug nexus," Hamilton said. "He was a family member of someone who was involved."
There was a ransom demand, he said, but police don't think the family paid anything.
The incident had a positive ending, with at least two people, possibly more, in custody, Hamilton said, but it didn't come without a certain amount of stress for the officers.
"Do we contact? Do we wait until morning until they leave the room? Do they get tired, bored, and hurt the hostage, or possibly kill them — then try to flee? So there were a lot of decisions to be made. A lot of variables, and what's going to be safest for everyone."
Officials were still investigating the case, Hamilton said late Monday night. There were  vehicles to be processed and firearms being recovered. Detectives were in the process of questioning the suspects.
"We're working with Utah County and the FBI to see if  we have federal or state crimes," Hamilton said. "The FBI is on scene, and if they determine this is their jurisdiction, they will take over."