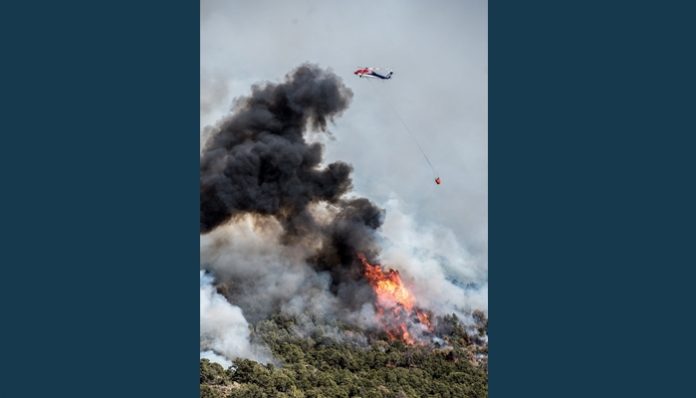 WASHINGTON COUNTY, Utah, July 5, 2018 (Gephardt Daily) — The West Valley Fire, north of Pine Valley in Washington County, has grown to more than 11,000 acres and is 20 percent contained, officials said Thursday.
The wildfire, which is burning 10 miles north of St. George, is now at 11,716 acres, Utah Fire Info tweeted Thursday.
"Thanks to incredible work by firefighters the last few days during Red Flag conditions, backfire operations and aerial attack have been highly successful to slow the progress of the fire and hold the line," the tweet said.
There is a public meeting scheduled for Thursday at the Pine Valley Fire Station at 680 E. Main St. at 6 p.m.
The fire reached eight percent containment Wednesday and measured 10,836 acres.
There are currently 647 personnel on the incident, including 20 hand crews, 10 helicopters, 18 engine crews, 1 bulldozer and 1 water tender.
"Firefighters are using several tactics to suppress the West Valley Fire, one is the use of fire retardant," an online update said Thursday. "Fire retardant is a mixture of water and fertilizer dropped by aircraft used to slow the spread or reduce its intensity. It's colored red to be easily viewed from the air and on the ground.
"Retardant reduces the fire's intensity and enables firefighters to safely approach the fire to improve containment lines. Aircraft work in conjunction with ground crews to target retardant drops where they are most needed."
Crews have also been putting fire on the ground, a firefighting technique known as a "backfire." A backfire is a fire set along the inner edge of a fire line. These backfires reduce the burnable vegetation in the path of the main wildfire. If successful, a backfire can slow down or stop a wildfire because most of the vegetation has already been consumed by the backfire.
No evacuations are currently in place. The Pine Valley Campground is open, the update said.
The fire began Wednesday, June 27 at approximately 3 p.m., officials said, and its cause was an abandoned campfire.