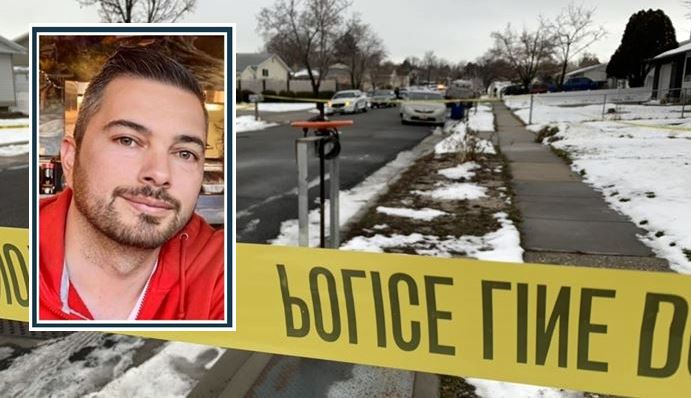 WEST VALLEY CITY, Utah, Feb. 7, 2020 (Gephardt Daily) — West Valley City police have released the name of the man killed in a domestic dispute Friday morning, along with the name of the suspected shooter, who is also deceased.
"The victim killed in the Deann Drive shooting incident has been identified as 40-year-old Nathan Edgar Brower," says a WVCPD tweet issued at 4:57 p.m. Friday.
"The suspect, who died from a self-inflicted gunshot wound, has been identified as 40-year-old Jeremy Reed Harris (1-15-1980). The female victim is expected to survive her injuries."
West Valley City police were called to the scene, at 3625 Deann Drive, at 6:20 a.m
A "woman called 911, reported that her ex-husband had shot her and her boyfriend," an 8:22 a.m. tweet from West Valley City Police says.
Officers responded to the scene.
"One adult male is deceased one adult female wounded, taken to hospital in serious condition," a subsequent tweet says.
Two children, ages 5 and 10, were found inside the residence.
"Children will be cared for by family members," a WVCPD tweet said. "Investigation and search for suspect is underway."
Second scene
Police were searching for the suspected shooter when dispatch got a call about 70 minutes after the first.
A man had been found in the shower of a stranger's home, on Hawkeye Circle. Police rushed to that address, about 3.4 miles from the first.
At "7:30 a.m., resident of 3844 Hawkeye discovered visibly armed man lying in his shower," says a West Valley City Police tweet issued at 11:36 a.m.
"Resident safely left home & officers set up containment. Officers used a robot, then gas to determine suspect was not moving. Officers entered, found man deceased from self-inflicted gunshot wound.
The "Man deceased in shower matches description of suspect in Deann Dr. shooting. Suspect's vehicle Alamo found in area of Hawkeye home."
The Hawkeye Circle home's residents have no known connection to the man found dead in the shower, the statement says.
Court records show that on Oct. 10, 2019, a protective order was granted to Harris' ex-wife, against him. Details of that order are considered private and are not detailed in available court records.
Court records also show the couple divorced in 2012.
Gephardt Daily will have updates on this developing story as information is released.