by Brittni Strickland
ROY, UTAH – September 23, 2015 (Gephardt Daily) – "So You Think You Can Dance" runner up Hailee Payne had an amazing run on this year's show leaving many to wonder what's next for the Roy, Utah native?
After auditioning three times, Payne had finally made it. Her run on the show lasted all the way to the finale of hit TV show this month.
Payne told Gephardt Daily that the journey with "SYTYCD" isn't quite over. The show's finale was on September 14 and rehearsals for the "SYTYCD" tour started on September 21. That means the Roy dancer only had a few days at home to spend with friends and family. The tour will last for approximately four months making stops across the nation for "SYTYCD" fans to watch their favorite dancers live. Payne, along with the other top 10 contestants, will make a stop right here in Utah on December 10 at the Maverick Center.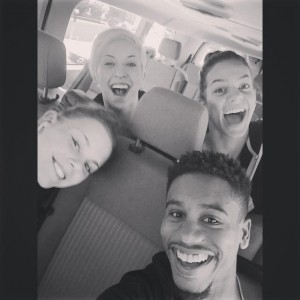 Even though she did not win the cash prize on "SYTYCD," Hailee said she truly won in her heart, "I accomplished what I set out to do," she said. "I learned, I grew, and I made connections that I will never forget. I got to share my art with America and made people feel something. I could not ask for anything more. This experience is so special to me and I could not be happier for myself and all the other contestants. It is a feat to be on the show and we did it season 12."
It's no secret that Payne is talented. But many ask the question of where it all began. She began dancing at the age of four after watching the Macy's Thanksgiving Day Parade with her father. After see the Rockettes kick across the television screen she leaned over and said "I want to do that." Beginning with Jazz classes at a young age, Payne eventually began training in all styles including ballet, hip-hop, contemporary, lyrical, tap and ballroom. Payne went on to say that Utah has become a dance capital and she feels blessed to be a part of it because studios in Utah truly enforce technical training in all styles. She even got a shout-out for world renowned choreographers Tabitha and Napoleon.
Payne said she has made many valuable memories along the way; some sad, some happy, some funny. Two specific memories that leap out are the first time she stepped on the "SYTYCD" stage seeing the bright lights, hearing the roar of the crowd, and beat of the music. "It is a dream," said Payne.
The second memory was also her favorite performance. The "SYTYCD" stage was shared in a number with contestant Virgil in a hip-hop piece that was choreographed by the dynamic duo Phoenix and Pharside. Payne describes the dance as a number with many isolations, robotic movements, and some unplanned acting.
Payne hopes to see her Utah family at the Maverick Center December 10 and says that she cannot thank Utah enough for the support. She believes that she wouldn't be where she is today without the state of Utah.
[hdplay id=312]