ST. GEORGE, UTAH – September 25, 2015 (Gephardt Daily) – A large-scale search is planned for a St. George teen who has been missing nearly a month.
Macin Smith, 17, was last seen in the Little Valley area of St. George on the morning of September 1. He is 6'4″ and 200 lbs. with short blond hair and blue eyes.

Search efforts for Smith have been extensive, and a the biggest search yet is planned for Saturday, September 26. Early indications suggested Smith may have headed to Vegas, but no leads have proved credible yet. Smith left home without his wallet and phone and has not logged into social media since his disappearance.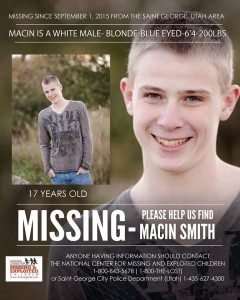 A spokeswoman for the family said this effort is being orchestrated by Red Rock Search and Rescue out of Las Vegas. RRSAR is coming with around 40 members and bringing 5 dogs.
The local St. George Search and Rescue team will have 52 person equestrian teams joining Dan Southwell, the RRSAR equestrian captain. There will also be a local medical team made up of EMT, off duty paramedics and nurses in pop-up
medical tents.
Permission has been given to use the BLM land for the search, and RRSAR has mapped out 16 search areas on this land. The search will go from 6 a.m. to 6 p.m., possibly later if the weather is good.
Organizers said volunteers out in the field should be prepared with 24 hour pack, long breathable pants, some type of hiking boot with ankle protection, gloves, any type of hat for sun protection, sun screen and water. Each searching member should have at least six quarts with them. Anyone who wants to help with search must be 18 years or older and in good health.
A GoFundMe account has been set up for Smith, click here for more information. For more about the search efforts, search #macinsarmy or the Macin Smith Facebook page.
Anyone with more information should contact the St. George Police Department at 435. 627.4300.