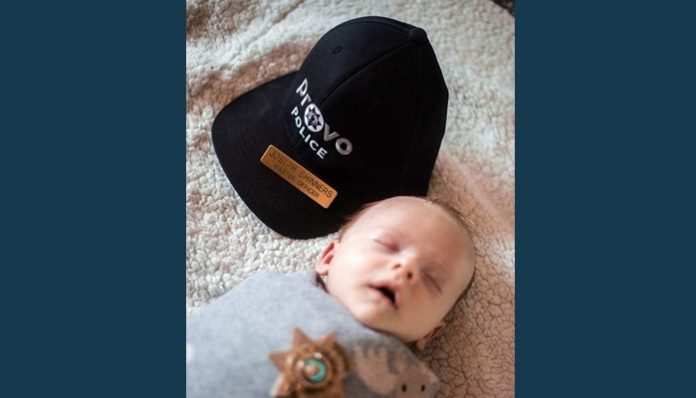 OREM, Utah, Dec. 1, 2019 (Gephardt Daily) — The widow of Officer Joseph Shinners, the Provo police patrolman who lost his life in January trying to arrest a wanted felon in an Orem parking lot, has shared a photograph of the baby born after his death, as well as details of two memorial concerts in his honor.
Shinners, 29, a three-year veteran of the Provo Police Department was shot and killed Jan. 5 while attempting to apprehend Matt Frank Hoover, 40, a homeless fugitive with a violent history who had allegedly been threatening police officers.
Provo Mayor Michelle Kaufusi posted on Facebook on behalf of Kaylyn Shinners Saturday: "Master Officer Joseph Shinners left his family for his scheduled graveyard shift— never to see them again. Sadly, his fate was to become the first U.S. law enforcement officer to be killed in 2019 and the first Provo Police Officer to be killed in the line of duty in more than 100 years.
"Shortly after her husband's death, Kaylyn found out she was pregnant and now has a beautiful newborn, who looks just like his daddy. Kaylyn would like to share her story, take time to remember Joe, and raise awareness of an opportunity to give the appropriate support to Joe as he is honored at an upcoming ceremony in D.C.
"One of the ways in which they will be raising funds to attend the ceremony in D.C. is with an Officer Shinners' Memorial Concert on Thursday, Jan. 2 and Friday, Jan. 3 featuring country music artist Billy Dean at the Covey Center. Both shows begin at 7:30 p.m. and tickets are now on sale for anyone interested."
The Covey Center is at 425 W. Center St. in Provo.
Tickets can be purchased here or by calling the box office at 801-852-7007.