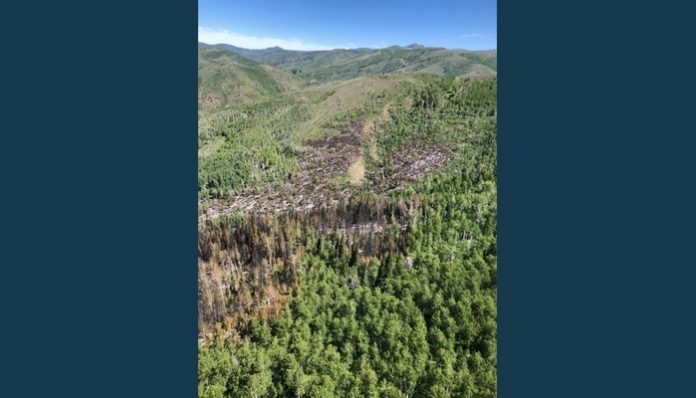 HEBER-KAMAS RANGER DISTRICT, Utah, June 17, 2018 (Gephardt Daily) — The Willow Creek Fire north of Strawberry Reservoir, which was caused by lightning, is more than 40 percent contained, officials said Sunday.
The wildfire, located north of U.S. Route 40 in the Heber-Kamas Ranger District, has burned 1,301 acres, and is 41 percent contained, according to a news release from Uinta-Wasatch-Cache National Forest officials.
The wildfire, which was first reported on June 6, is not threatening structures, campgrounds or power lines at this time.
"The interior of the fire continues to burn and creep through dead timber," the tweet said. "Fire crews will continue to monitor the fire and use suppression efforts if necessary using confine-and-contain suppression techniques. Crews are continuing to work along the outer edges of the fire dropping hazardous trees along the West Co-op Creek trail. Heavy equipment will be in the area of Bjorkman Road conducting hazardous fuel reduction."
Personnel and resources assigned include three engines, one 20-person hotshot crew, one 20-person initial attack crew and one helicopter. Total personnel on the fire is 91.
The news release reminds drivers to use caution in the area.
A temporary area closure remains in place due to active fire still in the area. Extra patrols will be in place over the weekend to enforce this area closure.  The closure is north of U.S. 40, west of Co-op Creek Road (area closure includes Forest Service roads #451 and #393), south of Bjorkman Hollow Road and east of Strawberry River Road (area closure includes Forest Service roads #389 and #735). The Bjorkman Hollow Road is closed.  Co-Op Road will remain open up to the seasonal closure gate, and Strawberry River Road will also remain open.
"Please help keep our firefighters safe by respecting area and road closures," the news release said.
For information on these fires and any others in the area, click here.